What was the inspiration behind "Secret Camp-Are We There Yet?"
Fidalis: The thought of "Secret Camp" came about when the pandemic started and everyone was forced to kind of move indoors or to get closer to home. My initial thought was like, well, it feels like all my conversations are really just kind of honing in what's happening right in this space and around me, and I didn't want to talk about the pandemic, but I want to talk about the overriding influence of just being here all the time, 24/7 in each other's faces. These conversations constantly crossed over, mixing and matching ideas so some of it spawned from things that I saw in the home things conversations that kids were having.
Can you talk about the work you are making and how the location (quarantine) has influenced the work? How does the setting affect your artistic practice?
My my son and my daughter one day wore a shirt like that and were walking around the house and I thought that's a painting. So those types of things happened in the process, but then also like dealing with like the frustrations and anxiety of like what the hell was going to happen in the fall. That's like everyone, whether you're left or right, the issue was felt in the same way. I think that's just like trying to draw on politics or like the feeling of being associated with one side or the other, I just want everyone to feel like we are all feeling the same thing, regardless of what side you're on. We don't know what the heck's going on. So part of that is like the Secret Camp was like, I'm going to fall back to a place that I feel I'm most comfortable, safe. I can get into my own thoughts and I can plan my own head so secret camp is about that and more that a lot of the spawn from that type of experience.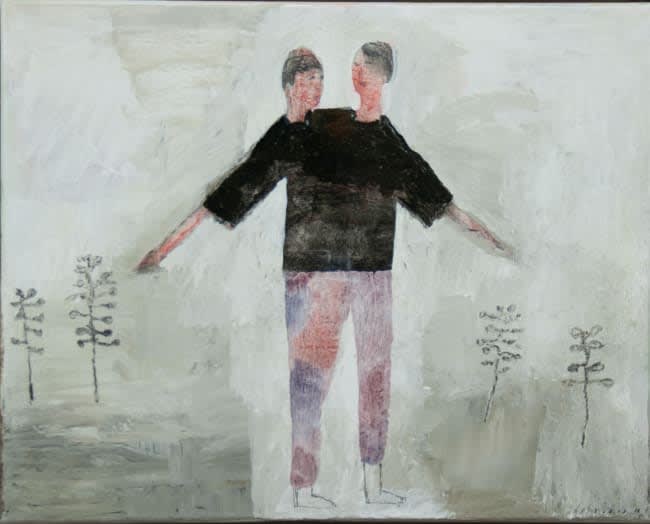 I got these two large ones who are like trying to fix plants and they're not quite there yet. But, you know, maybe thinking of it from a parental experience, trying to fix things was broken in the first place. One is masculine and one is feminine. I was nervous about that, like wondering, well, do I need to address that? And I think it might be in the end. But yeah, but she's she's like wearing like a long shirt. Looks like a dress, but then she's got pants on so it's like yeah well I kind of crossing over like I don't want it to feel so feminine or like totally constricted to like a dress. Right? So there's also those elements and yeah there is a motif.
What narrative do you hope your works share with your audience?
A lot of my conversations, I don't want to just get into the good and bad roles. That plays to kind of weak for me, I like it- I like knowing that they exist in terms of myth. Sometimes even myth confuses that conversation. You don't necessarily get it all the time as a clear cut answer between what is good and bad or right and wrong. I like playing along those lines because some of these characters in my work seem like they might be helping, but you don't know if they are. It might even look like the negative thing at first, but maybe it's not. You know, you can find that in most relationships regardless. You think youre in a position to help and you're not, you're being a detriment to the situation.
Do you ever watch those nature shows where a guy works to help fish and game or something and he goes to like set traps for animals, but not to kill them, but to like, protect them? And so, like, you're kind of caught between you're catching this creature, but you're also saving. Yeah. It's like those types of things, like just a catchy thing, the vice squad or whatever, you know. But if, you know, if I only did one thing, I think there would be an imbalance in the way that I approach a process. So I like that there's kind of like a variety of things like this is bear in the shower with a woman, she's obviously in a very vulnerable state, you know, dressed down. You know, those are like those are oddities that I reflect on metaphors for that apply to your own circumstances.