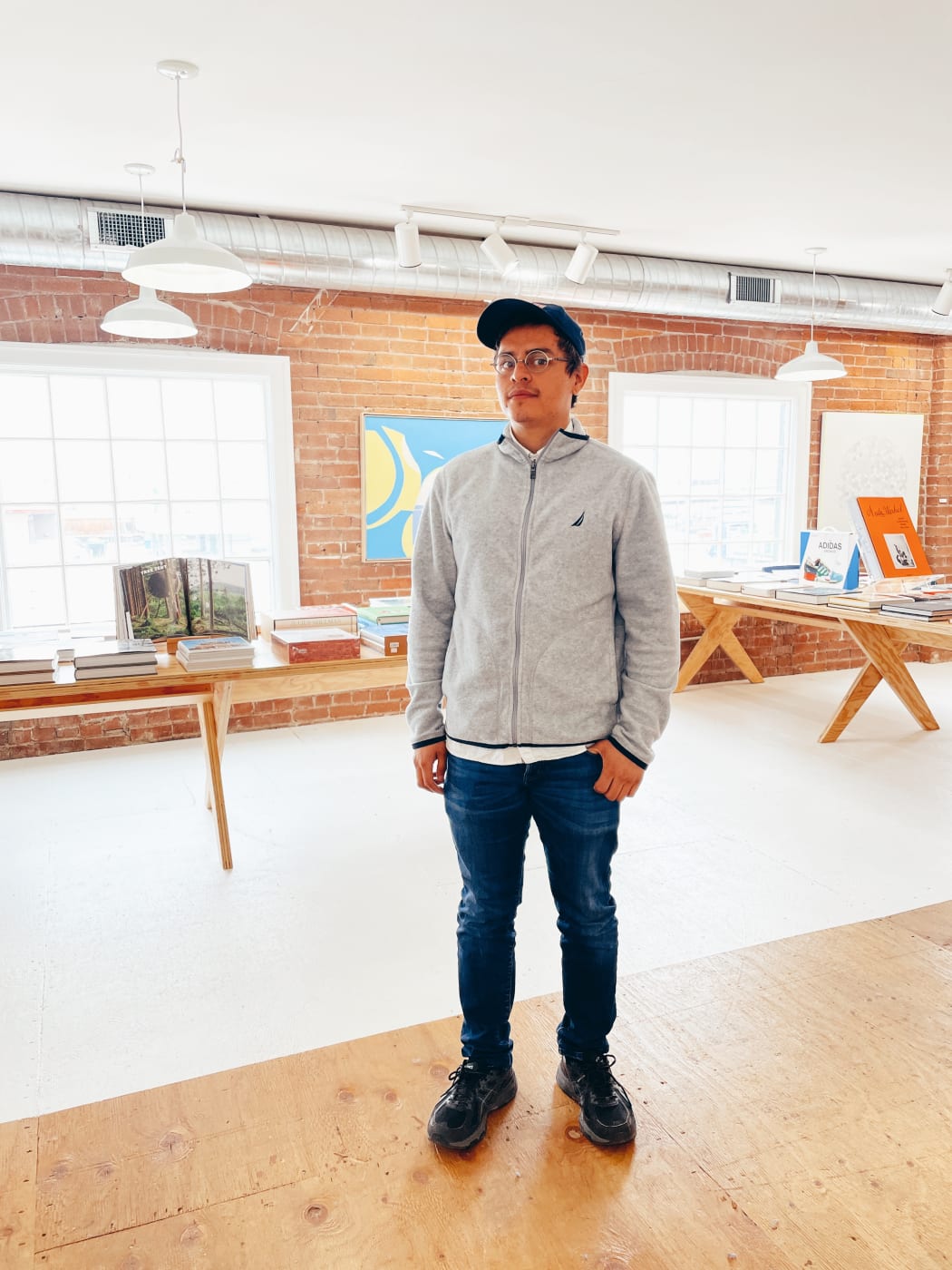 Why did you decide to apply for this residency?
I'm Amelec Diaz - I recently moved to Salt Lake City, Utah from Phoenix, Arizona. In order to have a broader understanding of the Arts in the Western States, I found this gallery (Modern West) was aligning serendipitously into my life through the friendships I began developing around art in Salt Lake City. I saw Rebecca Campbell and Angela Ellsworths' work in Modern West's roster and that pushed my interest forward into working with Modern West. I first became familiar with their work in Arizona and very much respect the works they make. Therefore, I can appreciate when a gallery takes part in leading conversations that potentially change pre-conceived notions of members in society, arriving at a enlightened view toward each other. I see the artist in residency program to be a start in beginning to acquaint myself with the people who make Modern West function, which can allow me to bring an educated perspective into the conversations about art in Utah. I am happy to get my foot in the door and continuing my body of work during this artist residency program.
Your work involves many separate layering components, can you talk about this multimedia process?
I started this multimedia process in 2012 with paintings and sculptures from my series called HB2281. These current paintings are reflective of the layers involved in social interactions. When we begin to know a person we begin to uncover the different layers and social contrivances until we understand how each layer relates to each other. As well as how the entirety of the layers from first glance are understood as we live with the art it begins to unveil its energy to the viewer. I really enjoy using acrylic, spray-paint and oil paint with archival integrity in mind. I allow the surface of the painting to embody the sense that these different materials can work toward the strength of each material to make an impactful painting.
What are some artists that you are influenced by?
I am directly influenced by the great Eric Fischl. His work enlightens social psychological aspects of suburban culture to the viewer in a remarkable style solely his own. Besides his work, his philanthropy also inspires me, he continues to create a noteworthy legacy in the Art world. He is a mover and shaker in creating opportunities for young artists in New York State and Arizona State. I am also influenced by other great artists such as Frida Kahlo, Jean Michel Basquiat, Andy Warhol, Keith Haring, Ai Wei Wei- our generations' Marcel Duchamp.
Is there a specific subject that you plan to focus on during this residency?
In brief, I have a few series that I have created and one series which has proven over time to have a potential to continue is HB2281. HB2281 was a law that was passed in 2010 in Tucson, Arizona. HB2281 banned ethnic studies in the K-12 education system and it is what my work reflects.
The law was passed in 2010 and since then similar laws such as HB2281 and SB1070 have been enacted in several places in the United States. Besides the law, the work is a reflection of the systematic approach toward turning a blind eye toward the effort in understanding the complex and rich history that The People of the United States of America have created on this great Continent. The series is a material reflection of the law and the complex relationship between people of many ethnicities/cultures on this continent. I reflect the sanitary practice of lime washing my paintings similar to the lime washing of barns in the United States in order to remove bacteria. I source children's tv programs that are projected onto the youth across the planet.
Specifically cartoons that project racial stereo types which in a young mind define and create an understanding, of a youth of colors', environment. Cartoons such as 1950-2000's Disney and Warner Brothers productions. I reflect graffiti which also is painted across the planet by drones of artists or writers that paint their craft in the same psychological space we view daily such as McDonalds, Walmart's and at times historical monuments in Europe. These are juxtaposed with ancient artifacts from the Americas. These ancient artifacts are ignored in history classes. They're important because as people - as Americans we all need to know we are represented in order to live more civilized with each other. In order to know where we are going we must learn where we are from. This body of work is more than just about identity politics in the United States it is about defending and protecting the Constitution of the United States. HB2281 was deemed unconstitutional in 2017 and now the Tucson school district is allowed to teach about the regional history in advanced placement classes in their schools. Dropout rates of students from the Tucson school district decreased to 2.5% a significant contrast from the 56% dropout rate of Latino students nation wide.
These paintings from the HB2281 series are meant to be a reflection of the law not a judgement. It is pleasant to know in my own mind that the body of work I embarked on in 2012 had tapped into a national educational dilemma that reached the Supreme Court. What started in Tucson is an example of a microcosm that in reality reflects a macrocosm in this case an underline cultural belief that (in consequence of distributing similar media) Americans have toward each other. How this body of work currently relates to the broader perspective or macrocosm of the United States is as follows. A new law passed by the 2016-2020 Presidential Administration, put into place a similar law to HB2281 but now targets Universities nation wide. Therefore, Universities and professors across the country are plagued by having to delete books and entire curriculums from their classes. The law reads as followed:
(A series of White House memos and an executive order have issued an immediate mandate to investigate and ban anti-racism and diversity training to federal contractors and federal grant recipients. The memos and executive order, listed below, obstruct efforts by corporations and universities to support diversity and anti-racist endeavors. • Office of Management and Budget (OMB), September 4, 2020, "Training in the Federal Government" • OMB, September 28, 2020, "Ending Employee Trainings that Use Divisive Propaganda to Undermine the Principle of Fair and Equal Treatment for All" • Executive Order 13950, September 22, 2020, "Combatting Race and Sex Stereotyping" • Office of Personnel Management (OPM), October 2, 2020, "Mandatory Review of Employee Training under E.O. 13950" *) Senator Mitt Romney has taken several stands against the 45th Presidential Administration and I believe Senator Mitt Romney and his entire team don't necessarily believe in the long term benefits of approaching the United States with such a demeanor as the current presidential administration is doing whether from the dominating republicans or democrats.
Can you talk about some of your previous projects?
Previous projects before HB2281 - were works leading up to HB2281. I was making paintings on tent awnings, and objects collected from gentrified areas. They were personal discoveries of regional histories on this large continent known as America. I was mastering my ability to realistically render objects in a general European oil painting tradition. While innovating with the materiality and space the work took on in Phoenix art galleries.
The structure of your work often involved a grid, repetition and symmetry - what is the intention behind this as a stylistic choice?
The grid that is repeated in my work is reflective of the grid Phoenix, Arizona was structured in. I find a similar grid here in Salt Lake County which I learned starts in the heart of the City, the Church of Jesus Christ of the Latter Day Saints Temple. Repetition is reflective of the bombardment or propaganda we receive through watching television programs. There is symmetry and asymmetry in the work but that comes naturally the relationship between the work and I navigate that sense you feel.
Can you give us a little bit about your background?
I was born in the 90's at a time where our continent began under going a great shift. George Herbert Walker Bush promoted a New World Order September 11, 1991 which came into vision. I was making my way to the United States at 3 years old from Michoacán, Mexico (where avocados originate) to where I lived most of my life Phoenix, Arizona. Since globalization started and NAFTA was enacted our ability to have a chance of survival was in the United States where we would have an opportunity to get an education, where we wouldn't be oppressed by violence enacted by feuding criminal organizations trying to meet the demands of a global black market. I made it through many trappings the lower classes are oppressed with and received an education from my teachers and most importantly Femtors and Mentors at Phoenix College and from the art magnet school I attended before Phoenix College.
Describe a real-life situation that inspired you?
Well being targeted by laws such as HB2281 and SB1070 inspired me most importantly - The first time an appreciation for art was evident to me was when I was flown out to Washington DC to tour the White House, tour the many important monuments to our nations history, watched a Wizards game and visited the local mall. From my childlike perspective I thought, all this for winning a state wide water color competition in 7th grade? That experience made a great impact in my perspective of Washington DC and in my life since then. I felt appreciated, honored, cherished in an environment where kids would get into fist fights over chips or adults taking advantage of powerless kids. To this day those moments influence me. Because of that experience I gained a respect for this great nation. I decided that for the next four years of high school I would travel 15 miles on the city bus to learn how to make sculpture from my mentor during my formative years. I seen my purpose to make relative artwork for this growing nation and since then I have a Betsy Ross painting in my portfolio commissioned by a direct descendant of Betsy Ross.