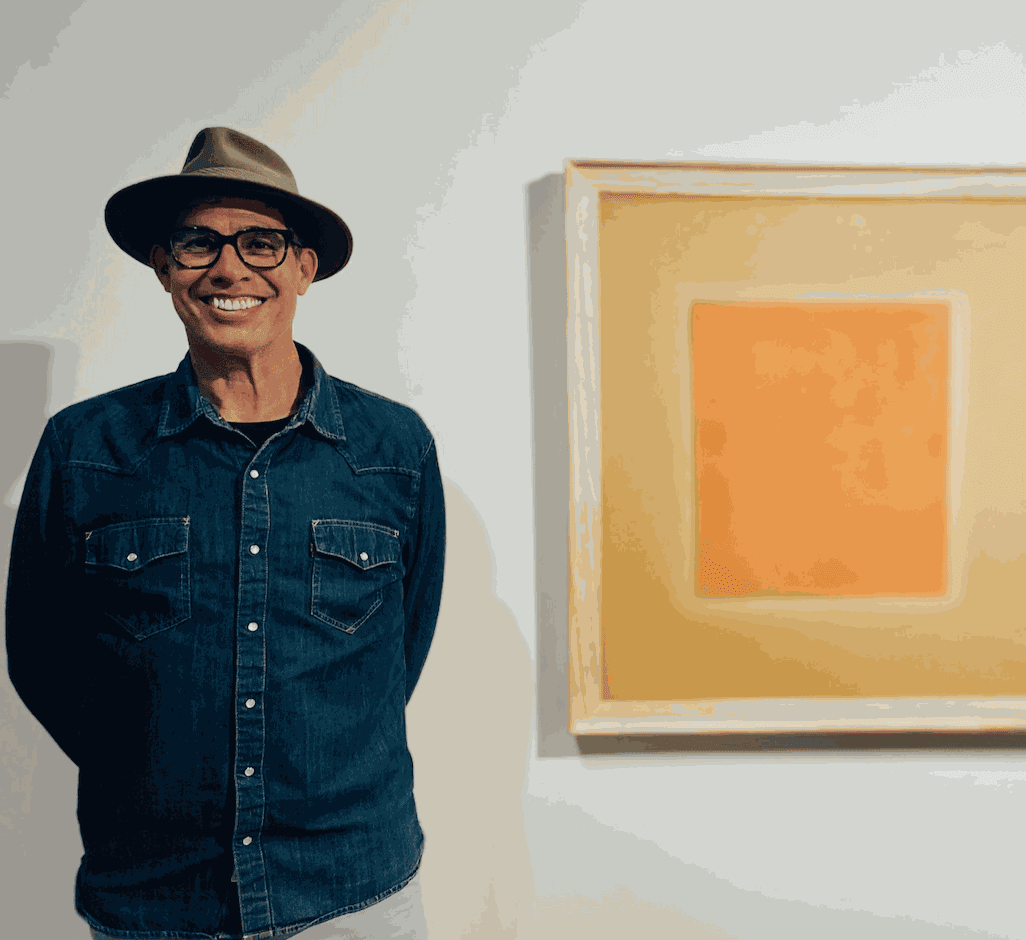 Your work varies widely in content - can you talk about your different bodies of work and how they are formed? Discuss your alternating style and approach.
Sure—and thanks for asking me to discuss my work! Over the past two decades my art practice has involved the following disciplines: 2D and 3D artwork using traditional and non-traditional media, and performance art. These distinct explorations are connected by my interest in the art process—how art gets made and how audiences see/interact with it.
In recent years, I've focused primarily on performance and video documentation. Performance art interests me because of its ability to bring people together, as well as provoke public engagement, action, and creative collaboration. Participatory action and interactivity are often present in my performances as I construct environments where communicative and social encounters between the public and the artist/artwork can take place.
Some of the themes I explore through performance include spiritual histories, interpretations of ancient rites and customs, and abuses of power. I've also recently done performance work on police brutality and racial profiling, immigration and the cruel and inhumane conditions that immigrant families and children face at the Mexico/U.S. border, and the way Covid has disproportionately affected people of color. These are important issues, but they're also ones we sometimes avoid because they can make us feel uncomfortable. My performances are designed to hold space for participants and observers to come together in gestures of protest, solidarity, remembrance, and healing.
My 2D and 3D artwork on the other hand is primarily driven by formal and sensory explorations and exists in many forms: painting, sculpture, mixed media, photography, and installation. I use tactile and sensory elements such as wax, light, sound, layers of paint and found materials to create works that deconstruct materiality to discover new meanings. While my performance work fulfills my interest in working with people and communities, my 2D and 3D work is more personal, intimate and abstract. But both bodies of work are important to me and reflect the different ways I think about and make art.
What inspired the featured body of work? How does your work comment on current social or political issues?
This new body of work is a return to the art I was making around 2007 while living and working in New York City. The inspiration comes from many things, but primarily it reflects my interest in reducing materiality to its purest form and energy. Using sensory elements like color, texture and translucency, I'm interested in communicating impressions we often feel (like love, joy, desire) but because of their nature remain unseen. As Antoine de Saint-Exupéry writes in The Little Prince, "The most beautiful things in the world cannot be seen or touched, they are felt with the heart." I believe what makes us most human is not merely our capacity for logical understanding, but our aptitude for love, compassion and empathy.
When we allow our hearts to take the lead, we change our understanding. We give ourselves permission to be less confined by logos, less rational and more receptive to feelings —our own and others — and to form emotional connections more effectively.
I've been thinking a lot about Covid and the many forms of injustice we encounter in the world. While my performance work directly responds to political and cultural tensions that come about from social and racial injustice, my 2D/3D work is more personal. I'm still thinking about things like race and identity, but I'm approaching these concepts less from a place of criticality and activism, and more from a subtle place of love and universality - thinking about and celebrating difference as something beautiful that makes our world unique and interesting. Through this work, I'm attempting to bring forth joy, beauty, pleasure and sensuality. This work is not really meant to be political or intellectual, at least not overtly. It's meant to resonate with the viewer on an energy level. I want people to feel the work first, and then think about what it makes them feel. Any readings and interpretations are personal and important. I hope that when looking at my work, the viewer experiences a sense of curiosity, awe and wonder.
You often use a variety of materials in your work. Can you talk about your selection of materials and how that influences the works you are creating? Walk us through the process of creating a piece, start to finish.
For my 2D and 3D works, I use a number of tactile and sensory elements—such as wax, sandpaper, sound, layers of paint and found materials—to deconstruct materiality and discover new meanings. I'm interested in getting to the core of these materials and do this by melting, pouring, carving, layering, and using various reductive techniques to transform a surface. Also, the Zen aesthetic (especially its emphasis on simplicity and naturalness) plays a significant role in my work as I strive to attain purity in form. Thus, I create patterns and grids that involve geometry, and through repetition generate rhythms, harmonies and vibrations. Similar to Zen, much of my work is based in contradictions: the organic and the technological, the corporeal and the spiritual, order and chaos.
Through the use of wax combined with other materials like paint and organic resins, I am able to explore the sensation that something familiar elicits when it is viewed through a window or from behind a veil, revealing something new about its character. Wax, in particular allows me to achieve a level of transparency, depth and fluidity, which I use to communicate some of the ethereal qualities inherent in color and forms. In these works, controlled accidents also become an important part of the process and infuse the work with a sense of playfulness. The textural and tactile qualities of the finished work reflect the mark-making process and the environment in which the artwork is created.
I often begin a piece with a feeling rather than an idea or mental image of a finished product. I meditate on that feeling and try to embody it as I work to create something that captures it in abstract form. I work with my materials to try and capture and communicate this feeling - something pure and honest that feels right to me. Along the way the materials do their own thing and often guide me to where I need to go. My process is really a conversation or exchange between myself, the materials and time. It is in the act of making that the meaning is revealed.
How has your experience as a curator impacted your work?
Curating other artists' work is an important part of my practice and one that brings me great joy and satisfaction. Most of the shows I curate have something to do with what it means to be human. And this part of my work allows me to tell stories and create narratives inspired by artists whose work I respect and admire. I love researching and learning what other artists are doing. Curating the work of other artists impacts my own work by helping me be a more thoughtful and understanding artist and human. It's always an honor to get to work with, collaborate and learn from artists.
I also enjoy working with and learning from the people that run the spaces and institutions that commission me to curate. Making sure that my vision for an exhibition aligns and supports their goals and missions is always an exciting challenge and makes for more meaningful projects. Learning about others' work expands my appreciation for nature, art, culture, and society. Curating the work of other artists makes me smarter and more sensitive. It makes me a better artist.
Following this exhibition, what projects will you be working on? What direction do you hope to take your works in the future?
I'm really enjoying spending time in the studio and plan to continue making 2-3D work in a similar vein to what you see in the Variant show. That being said, I find that the materials, process and experimentation often drive the direction my work takes, so we'll see what comes of it.
I'm currently working on a new Corn Mandala installation for the Projects Space at UMOCA, which opens on June 4th—and preparing a new performance that deals with the artist's body and the landscape for an exhibition curated by Kristina Lenzi.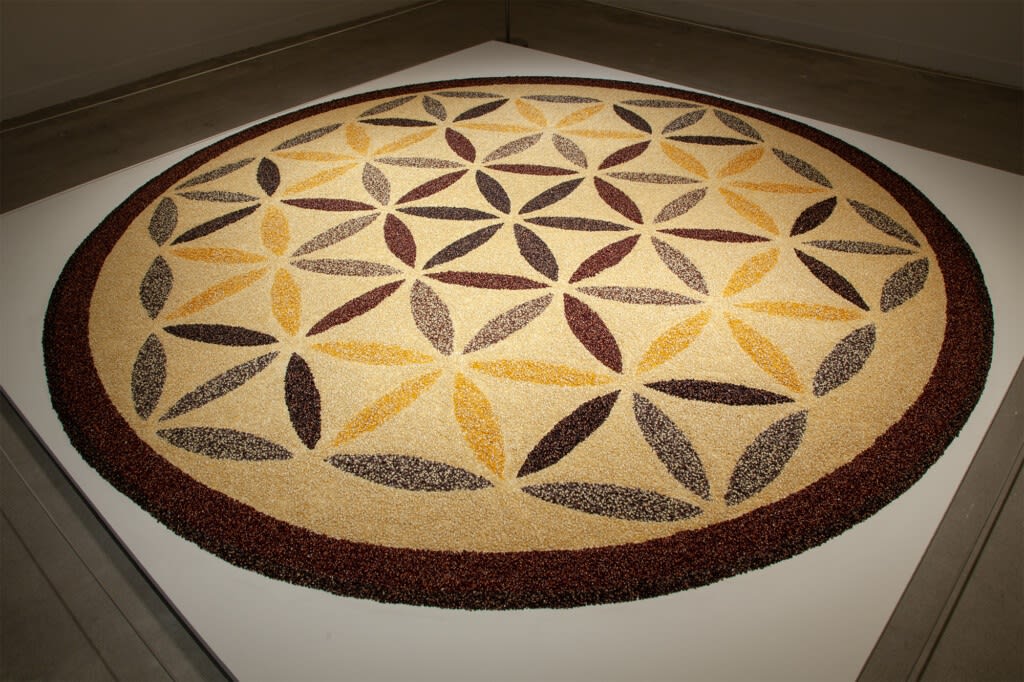 On the curatorial side, I'm building an exhibit for Ogden Contemporary Arts and Weber State University's Department of Visual Art and Design titled Vida, Muerte, Justicia / Life, Death, Justice, an exhibition of Latin American Contemporary Art that will open in October and run through November. This exhibition features artwork by twenty-five contemporary Latin American artists whose practices directly respond to social justice issues locally, nationally, and internationally. It will include an ambitious visiting artist and lecture program hosted by Weber State University and designed to create opportunities for engagement with various Ogden communities. The show is co-curated with my friend and amazing colleague, María del Mar González-González, assistant professor of global modern and contemporary art history at Weber State University.
Lastly, I'm in conversation with a few art museums and nonprofits about consulting with them on their equity and inclusion work, as well as helping them reimagine their institution's public roles and how they can better engage with and develop more meaningful, long-lasting relationships with the communities they serve.
You have a residency coming up at the Kimball in Park City. Is there a specific subject that you plan to focus on during this residency?
Yes, I'm very excited about this! I will be the first artist in residence at the Kimball Arts Center so, in a sense, I'll be their guinea pig and helping them think about how to build their program. In speaking with their director, curator, and head of education, we all saw an opportunity to utilize my residency to help develop a new program focused on public engagement and creative collaboration.
I've worked for years to help transform museums into more inclusive spaces, so this seemed like a natural continuation of that work. My community-based work is all about using art and participation to bring forth societal change through more inclusive ways of being and operating. For this project I'll be building off of my My space project (2008-2009), a series of durational performances that took place inside museums and galleries where the public was invited to participate in a series of interactive, community-building projects.
With The Kimball and Park City communities I'll be working to build a space where transformative social encounters can occur. I'm excited to develop an art project that will culminate in an exhibition made with the community. Also, Park City has a vibrant, growing, multigenerational Latin@ community. So while my project is intended for everyone, I'm especially excited to use this project to connect with and help facilitate meaningful and lasting relationships between the Latin@ community and the Kimball.