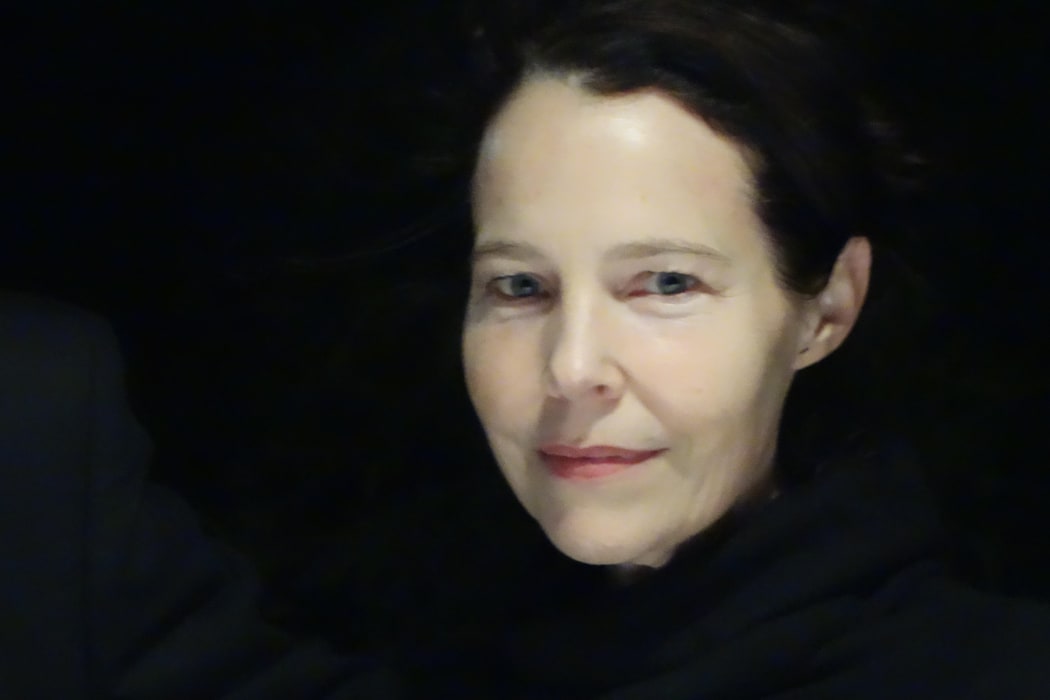 Tell us about your background and how it has led you to where you are now.
My work explores a wide range of research subjects including physical fitness, endurance, illness, social ritual, and religious tradition.
I was born in Palo Alto, California and raised in Salt Lake City, Utah singing songs about ancestors walking and walking and colonizing the west. At a young age I was acutely aware of how I didn't fit neatly into organized religion. I attended Hampshire College in Amherst, Massachusetts and started to find a critical and feminist voice in painting and photography.
After graduating from Hampshire College I moved to Italy not speaking a word of Italian. It was there I met my artist mentors who continue to be significant women in my life.
During my six years in Florence I focused on issues of identity and invisibility. In 1989 I created an installation titled Anonymous Women in a 13th century Maltese church in the city center of Florence. The installation contained paintings, found objects, and ancient cabinets This work surfaced when I was aware the portraits of five women that were used to mass-produce antique-like brooches sold in Italian flea markets as "antiques." They were women with no names. They were anonymous yet everywhere. I wanted to honor these women whose images had been reproduced for tourist consumption.
After six years in Florence I returned to the United States for graduate school at Rutgers University and was an early member of the activist group Women's Action Coalition meeting weekly at the Drawing Center in New York. I lived in the YMCA in New Brunswick and spent long days in my studio or in New York City. I focused my painting and performance on the body, identity, cultural codes around the beautiful and the grotesque. After receiving my MFA I was awarded a fellowship to Skowhegan School of Painting & Sculpture in Maine.
In 2005 I started the interdisciplinary Plural Wife Project and was honored to be included in the 17th Biennale of Sydney presenting both installation and performance from this project. The work received significant reviews in the Sydney Morning Herald, interviews for ABC National Radio (National Public Radio, Australia), and Channel 10 News in Sydney. Works from this project have been cited in publications such as New York Times, Artforum.com, Frieze, Art Papers, Landscape Architecture, and FiberArts to name a few.

Currently I reside in the southwest (Santa Fe, New Mexico and Phoenix, Arizona) where I am a professor at Arizona State University. In 2014 I co-founded the Museum of Walking with artist Seven J. Yazzie informed by his regional Indigenous ancestry (Navajo) and my pioneer polygamist lineage. Merging our individual art practices with a collective interest in walking as it relates to the historical, cultural and political sites that impact bodies and land. Within this project my work continues to focus on making the invisible visible; writing women back into history, honoring land rather than claiming it.
It is apparent that culture and religion have influenced you. How have these aspects impacted your work?
It is true that much of my work has been influenced by my upbringing. I approach the work as a confluence of memory and objective research. My hope is that the work moves beyond my personal experience and opens up an expansive dialogue about human desire to understand what is not always visible.
Who/What inspires you?
Research, reading, and walking. Silence. Absurd encounters in everyday life. Constantly questioning what I think I know.
You often use a variety of materials, can you talk about your selection of materials and how that influences the works you are creating?
Various mediums and materials all speak to each other. The concepts lead the form and material choice. I consider material as meaning.
Following this exhibition, what projects will you be working on? What direction do you hope to take your works in the future?
There are always co-projects going on in my studio. I think of my practice as a continuum.
At the moment I am working on a private commission piece and just opened an exhibition at Lisa Sette Gallery called "Things We Carry." https://lisasettegallery.com/exhibition/
I am in conversation with a curator at the New Mexico Museum of Art to take part in an exhibition in 2022. I am really looking forward to returning to Italy next year for a month-long residency at Bogliasco and leading a Museum of Walking pilgrimage along the path of St Francis of Assisi through a sacred forest. http://www.museumofwalking.org/new-index-1#/pilgrimageitaly/
The Museum of Walking screened a documentary on a water walk along the Rio Salado River in Arizona. You can view the film and a conversation on the project here. https://www.youtube.com/watch?v=2PdRcMm3EmQ
What are some of the non-visual mediums that interest and influence you?
Studies of esoteric and occult practices, listening to birds and podcasts on activism, spirituality, and philosophy.