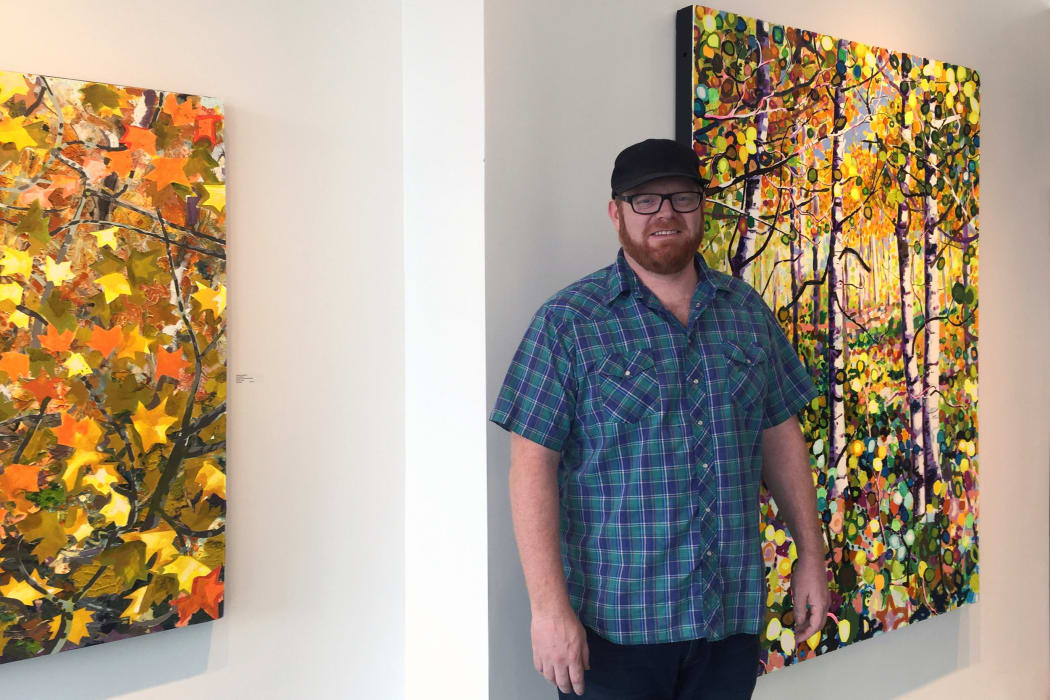 Modern West Fine Art is thrilled to feature new works by Woody Shepherd. The exhibition is currently on display until March 11, 2017. Woody Shepherd's bold landscapes demand presence in not only their scale but also their execution. His dramatic technique of layering and removing paint creates depth, texture and compelling composition in his work. We took a moment to ask Woody about his newest works...
Your captivating compositions engage the viewer to take a closer look. The bold colors through out your works are balanced with the serene subject matter. What inspired you to focus on creating pieces that were inspired by the wilderness with such a vibrant palette?
When bold colors interact and/or clash on the eye, it excites our senses. That is what I am trying to do not only with color but with texture as well. Instead of mixing every color in paint down to a "local color," I employ optical mixtures of vibrant colors next to each other in which are mixed on the eye rather than in paint. I find this effect to be interactive and exciting. The wilderness is a similar situation. There is light, color, texture being chopped up in all ways. I am trying to simulate the same feeling and excitement in my paintings that I experience in real life.
You have been exhibiting your paintings with Modern West Fine Art since we opened three years ago. Our collectors love the large scale in which you work but some ask if you paint smaller. This is often due to the fact they don't have the space to feature your work. In your latest exhibition you provided us with new works that were smaller in scale. What influences the format in which you work in? Was it challenging for you to work in a smaller format? What draws you to paint in a larger format?
I have been scaling down my paintings for the time being (but not abandoning the large scale ones). Ive been slowly tricking myself into being "Okay" with painting smaller by gradually scaling down over the past year or two. The demand for smaller works from collectors has finally caught up to me. For a long time I would not work under six foot in the smallest dimension. I am aiming to stay in a smaller format for a while, but am excited for the days to work larger again. Lately I have been particularly drawn back to the square or "close to square" format. Square is a difficult format to work in, but when it is done well, it is a powerful shape.
Many of your works have incredible texture created by the building up and taking away layers of paint. Can you tell us more about your process and how you create such dynamic paintings.
Just like color, I like to interact and clash texture in my paintings. I find that it adds a whole extra dimension to my work. Just as you can witness colors as sensations, texture activates another sensation. I also like to confuse the relief of the surface texture with the illusion. Often the deepest space in the illusion is sticking the furthest out of the painting surface. The textures are created by many processes.
Often I throw thick painting onto the surface, use a press, add textured mediums, use pallet knives, masking, and many more techinques. I find texture, mark, speed, and movement to all be very expressional elements. I make paintings, not pictures, therefore I like to keep the paint gritty and remind the viewer that a painting is made by a human with a soul.