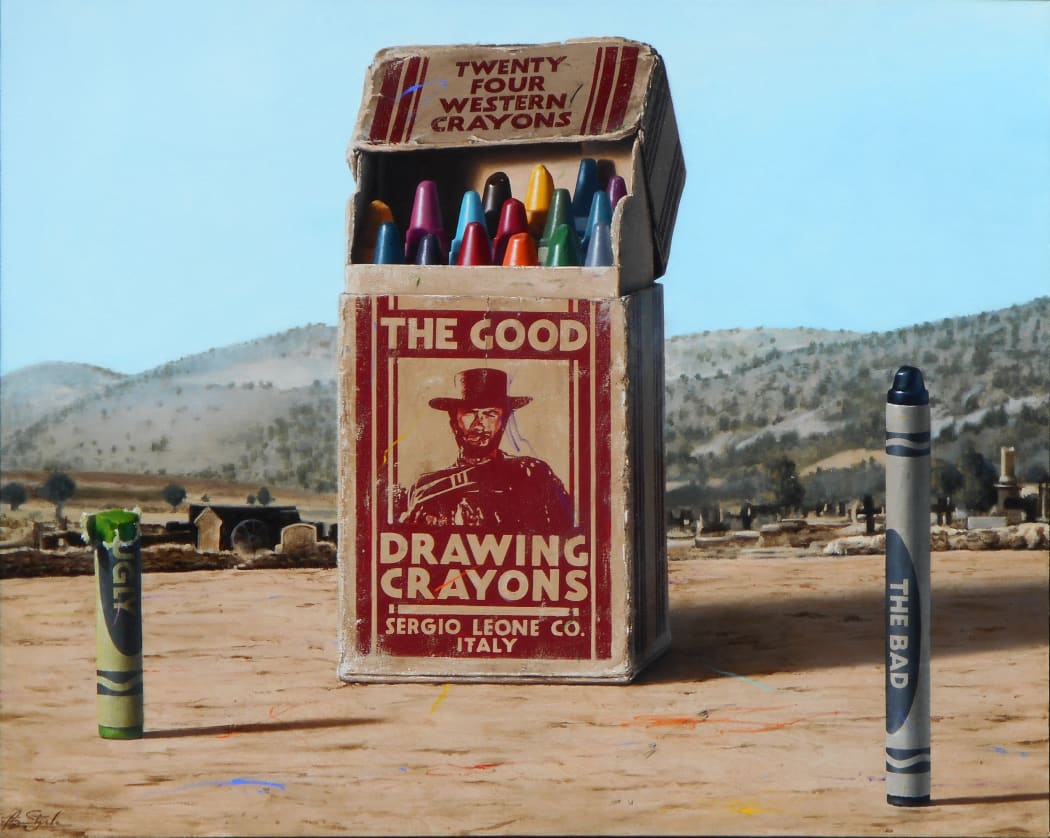 Modern West Fine Art is thrilled to have introduced Ben Steele's most recent body of work The Good, The Bad, and The Ugly! The exhibition is currently on display until January 13, 2017. Ben incorporates nostalgic imagery with iconic characters throughout his works. We asked him some questions on his process and thoughts behind this outstanding show...
Your exhibition The Good, The Bad, and The Ugly has a stylized western theme with many iconic personas. What inspired the selection of this theme and these characters?
I take a lot of pride in being from the west; the spatial and time freedom that comes with it, so getting to do a show focusing on some of those themes is extra cool for me. It's hard to picture the West without thinking of Western films and the whole cowboy and Indian stereotype, so I wanted to reflect those notions and juxtapose them with branding and art commentary. Mostly, any time I take on a theme, it's just me having fun in the studio.
You use many different techniques of painting to achieve results that look like crayon or other mediums. Can you tell us about one or two of them?
I usually try not to impose my techniques on the painting, rather try to let the concept behind the painting impose on me how it should look. For example, the crayons became a very early theme in my work because they allowed the technical rendering of the scene, yet, I could mimic the way a child uses a crayon to almost an abstract effect. The technical stuff sets up with time and training but so much of it is also a trial and error process. A brush can be used to make a crayon mark but I found a q-tip replicated the thick and thinness of crayon on a page much better, the way it drags.
You had mentioned that when establishing your own style you were encouraged to paint what interested you. That was when the crayons and colored pencils started showing up in your work. What other themes or subject matter do you find showing up when you paint?
I find just about everything shows up in my work because I paint to the common thread of art or pop culture commentary. So, the fun part is that it can appear just about anywhere or on anything, whether it's a studio still life, landscape or portrait. That's been a saving part of my career in that it provides such a wide berth for change and growth in style and technique.
What artists inspire you and have influenced your work?
There are a lot! I look at the history of art as an accumulative whole, which makes most of the artists before me influences. My mentors David Dornan, John Erickson and Paul Davis hugely impacted my work because they shared their knowledge and voice to help me find my own. And historically, I'd say Vermeer, Warhol and Dali probably inspire me the most today but tomorrow the answer could be completely different.
We asked Ben what his words of advice would be for emerging artists: "Good instruction can't be overvalued and you have to put in your hours if you want to grow." If you have not had a chance to view The Good, The Bad, and The Ugly in person, stop by the gallery before its too late! The exhibition is currently on display until January 13, 2017.