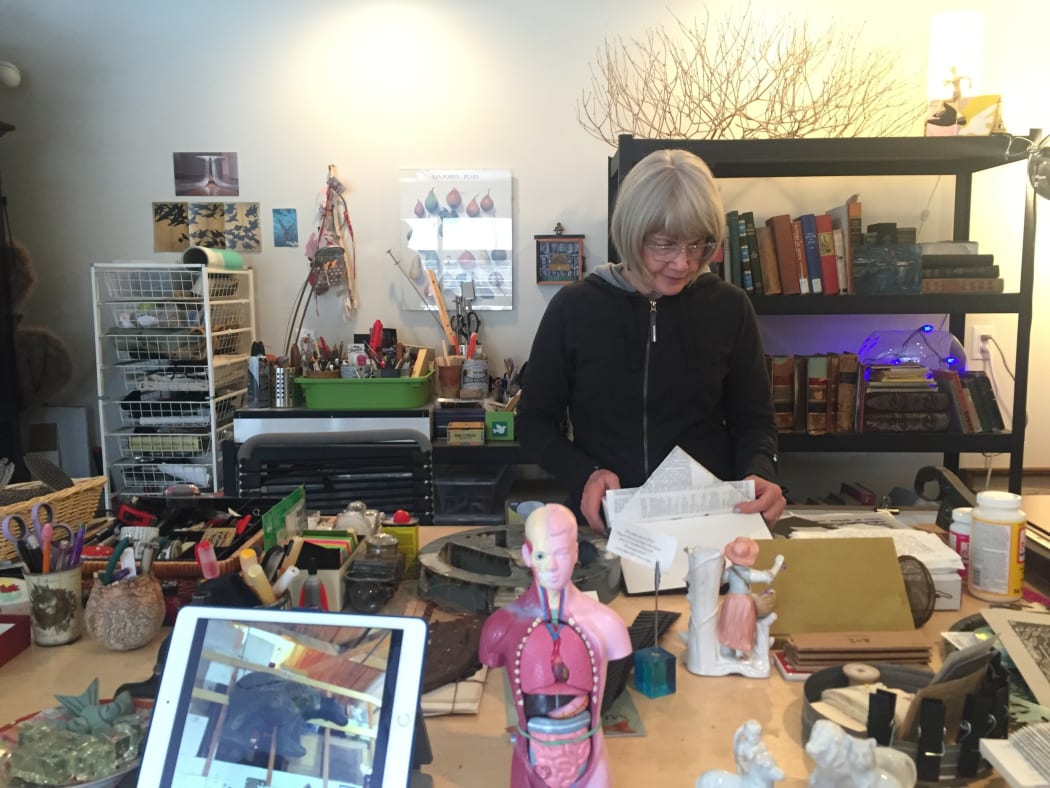 We recently had the opportunity to visit our artist Jody Plant in her studio to talk about her March show at Finch Lane Gallery. Her unique multimedia artwork gives the viewer insight into her imagination and self discovery over the last year. Read our interview and visit the exhibition beginning March 4 through April 15, 2016 at Finch Lane Gallery.
What would you say is your biggest inspiration for this exhibition? Or the motif behind the work?
The major inspiration is Frank McEntire, and his enigmatic, unfathomable mixed-media masterpieces. I value the collaboration and stretching myself. As always I am inspired by the natural world and the great mystery it continues to hold for me.
This exhibition is entitled Double Vision, what is the meaning behind this title?
As assemblage artists we are exploring the four elements and more, often mirroring and exchanging similar materials in our individual and combined pieces to form cohesion for the entire body of work. Double Vision is about two veteran mixed-media artists exploring their uniquely varied approaches to assemblage, falling down a few rabbit holes and curiously finding common and uncommon ground.
While working with Frank Mcentire, how has he inspired your work?
By his generous and visionary spirit, his deep smarts, sense of humor, and his inscrutable ability to know when to add or take away materials. He just knows!
What's your favorite part of collaborating with other artists, specifically Frank?
Being able to lose myself in their certain realms of enchantment and observing what drives their creative process. When I am in Frank's studio I am a time traveler. It is a world of worlds that I don't want to leave.
What inspired your self portrait?
Surviving the loss of my brother, my father, my mother and my health last year. It is about carrying great grief and gratitude.
Do you enjoy having political pieces incorporated in your exhibitions? Such as the Who are we? piece.
Yes when the timing is right. Perhaps all art is political in the sense that it engages and informs society in some way, either by influencing or being influenced by it. There is tension between art and politics and often I feel compelled ask a question or send a message. Who are we? reflects the ongoing madness of our nation's immigration debate. I am deeply concerned and incredulous.
Is there anything else you would like to tell us about your work and your upcoming show?
I am enjoying the collaborative process with Frank and the great fun creating much larger scale pieces. I am challenged by the process, the gray matter in my brain is singing, and I feel more expansive than ever before with my artwork. I have fallen down a wondrous rabbit hole. The following quote soulfully speaks to me and rings true.
"Creativity is sacred, and it is not sacred. What we make matters enormously, and it doesn't matter at all. We toil alone, and we are accompanied by spirits. We are terrified, and we are brave. Art is a crushing chore and a wonderful privilege. Only when we are at our most playful can divinity finally get serious with us. Make space for all these paradoxes to be equally true inside your soul.
The work wants to be made, and it wants to be made through you."