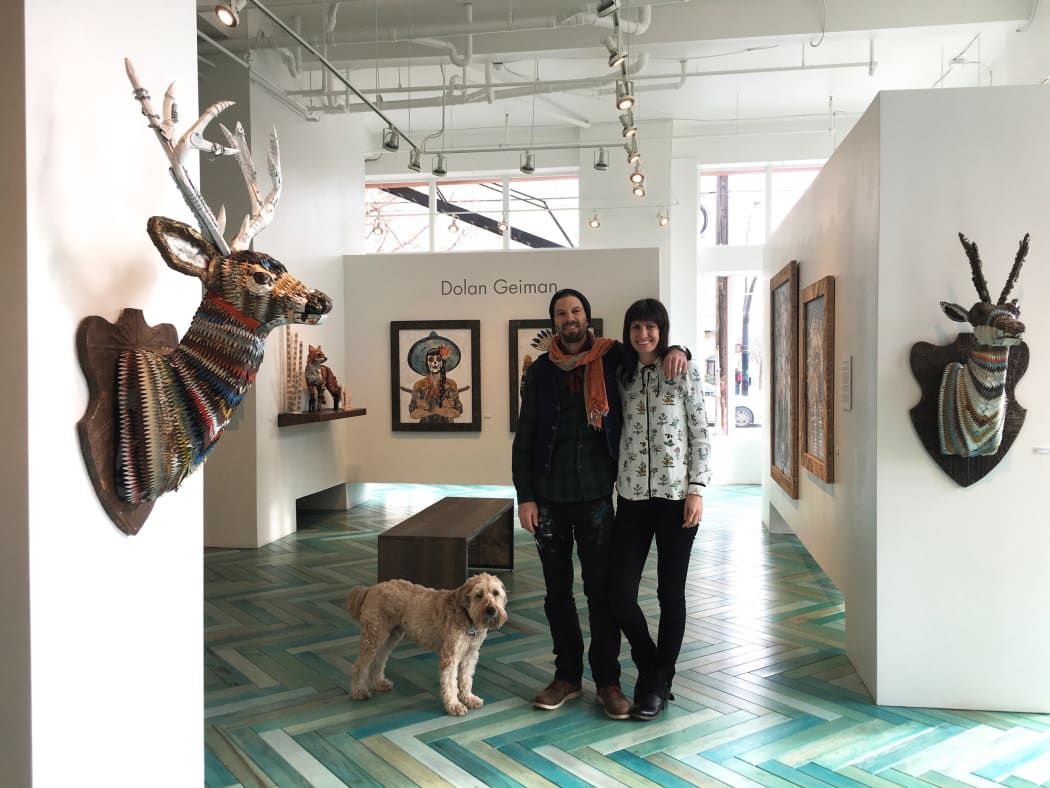 Dolan Geiman is a nationally recognized mixed media artist who is heavily influenced by his childhood, travels, natural surroundings and found objects. When these primitive found objects are in Geiman's skilled hands he has the ability to transform them into sophisticated pieces of artwork.
Geiman's artistic development started during his childhood growing up in rural Virginia. Dolan grew up in a cabin in the woods where he was exposed to a unique environment. One of the greatest experiences that Geiman remembers was the campfire his family had nearly every night at the Geiman household. During these gatherings he was exposed to folklore by elderly employees of the forest service who would join them around a campfire to share insight into natural remedies, share folklore, sing songs and play instruments. Dolan mentions that the folklore legacy of the south had a great impact on his work. Although, he did not realize it at the time these stories and interactions became very significant to him as he developed his unique personal aesthetic.
Eventually it came time for Geiman to leave his home in rural Virginia. He spontaneously decided to relocate to Chicago. Originally Geiman did not intend to stay in Chicago for more than a few years but three weeks after his arrival in this new city he met his wife Ali and remained in Chicago for ten years. During this time in Chicago he felt very inspired by the urban environment, which was very different from his upbringing. Dolan's environment easily influences his art because his pieces are made from what he finds around him, when in Chicago his artwork transformed with the industrial elements he discovered.
Dolan Geiman and his wife Ali left Chicago to escape the urban lifestyle and get more in touch with nature. They now reside just outside of Denver, where they can enjoy both an urban environment to maintain and grow his business while being close to the mountains.Hunting for materials for his collage work is Dolan's favorite part of the creative process. When he was growing up in Virginia there were many abandoned farmhouses close to his childhood home and these became foraging places for him. If you look close at his collages you can see sheet music. His first discovery of sheet music was years ago. Dolan and his siblings were scavenging through an old house that was completely gutted except for a piano that was mostly destroyed. Dolan lifted the seat of the piano bench and discovered a wealth of old sheet music. Sheet music has since become the foundation for his pieces. Dolan enjoys gathering objects from abandoned structures because of the energy that's left there, he sees lives put on pause because of the abandonment of these structures. He strives to continue those lives through his work.
Dolan Geiman's artwork will be on display for his solo exhibition through February 13. His involvement in the design and hanging was instrumental in the execution of this incredible solo exhibition, his work has truly transformed the gallery. View his work here.