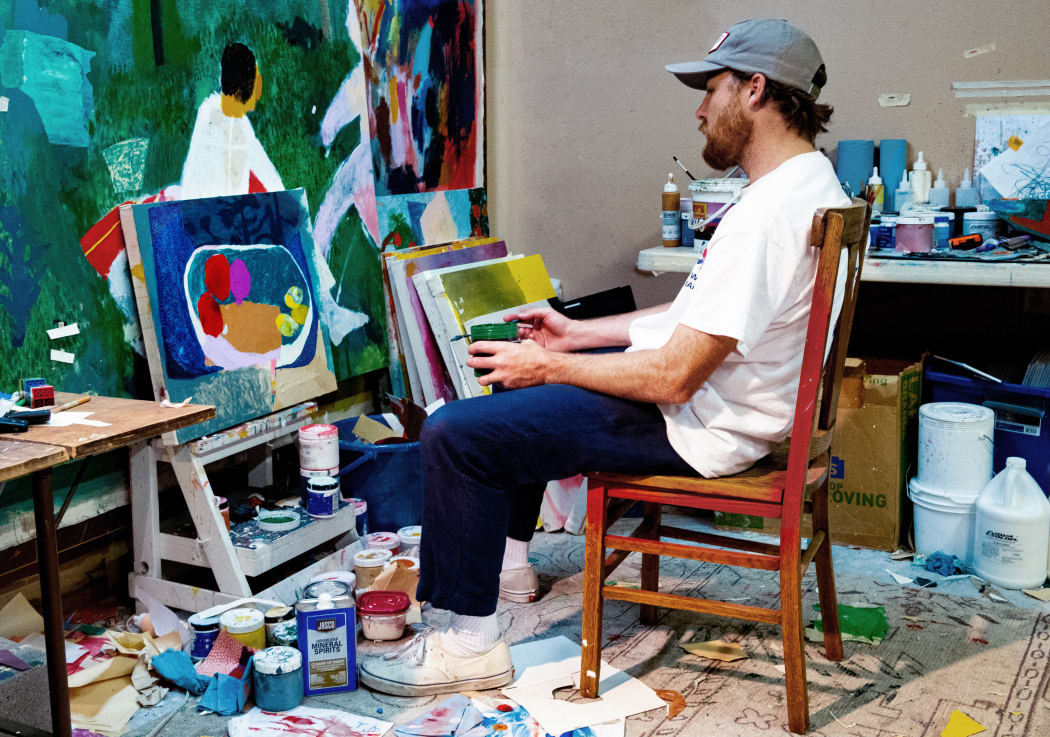 Tell us about your background and how it has led you to where you are now.
Because I struggled in school all through my younger years, art became a place of solace and exploration for me. I looked to art as an outlet; a place where I could succeed. I didn't consider art as a career option until I took a few formal art classes during my undergraduate schooling in Virginia. There I was introduced to printmaking and fell in love with it. With this discovery also came a desire to teach others the joy and excitement that comes with creating art.
Shortly thereafter, I was accepted to The University of Arizona MFA program to study printmaking. As I developed my printmaking skills I was encouraged to explore painting and other mediums to help push my work in new ways. Since I graduated with my Masters in Fine Arts I have continued to paint and use other mixed mediums to create my work. I am constantly experimenting and learning about new applications to convey my ideas.
Following my graduate studies, I had the opportunity to teach as an adjunct professor at Pima College and Glendale Community College. Just recently I was awarded a full time position at Glendale Community College, where I teach drawing and life drawing.
Who/What inspires you?
I am inspired by the individuals that surround me. My wife and children and the relationships they hold; simple and ambiguous circumstances are intriguing to me, especially those that may seem mundane and are oftentimes overlooked. These moments in time are fascinating, and fuel the ideas I commonly choose to explore in my work.
I am also intrigued by human behavior and attributes. Simple settings, movements, gestures... I believe some of the most intimate and telling elements of a person, or place, lies in the small movements made throughout the day. Sitting in a chair, laying on a bed, a piece of fruit, a quiet kitchen... These are all small but essential bits that can help make up a person.
Give us some insight on your process and how it leads to your final outcome?
I spend my time working through thoughts and ideas, as well as a lot of self reflection. I am constantly wondering about things. I try to separate idea making and art making but the two still tend to integrate. The creation process is a struggle and I am constantly problem solving and reworking my ideas to overcome physical and mental blocks. It's important for me to build layers and cover up old ideas and sometimes the most important part of my process is when I sacrifice the precious parts. This work can be both aggravating and rewarding.
I strive to just paint and not overthink. When I start a piece, I don't necessarily start out with one grand idea. I have many little ideas that need to be uncovered and refined over and over until I make something of those ideas. I often find myself in conversation with my paintings as I try to learn about them. My goal is to get them to tell me who they are.
Following this exhibition, what projects will you be working on? What direction do you hope to take your works in the future?
I will be working on a group project with a couple other artists in the Modern West Family. Fidalis Buhler, Andrew Alba, and Wren Ross to name a few. We plan to combine our works into one show, and show in various venues around the country.
I am interested in working even larger than I currently am now. I would love to experience working on a painting that is larger than 12x15 ft. in the future and see how my work can develop in the process.
Artist Statement
Art can be a powerful way to search for purpose and meaning. Anything we wonder about, question, or experience can later breach the surface of the subconscious to become an iconic visual symbol. In my own work, figures, animals, and buildings interact in a metaphoric narrative that is autobiographical and, hopefully, universal. I imagine they are me. I am every man, woman and animal that I draw. I am everybody and nobody in particular. My pieces attempt to explore and celebrate the certainties and ambiguities of personality, relationships, and being.