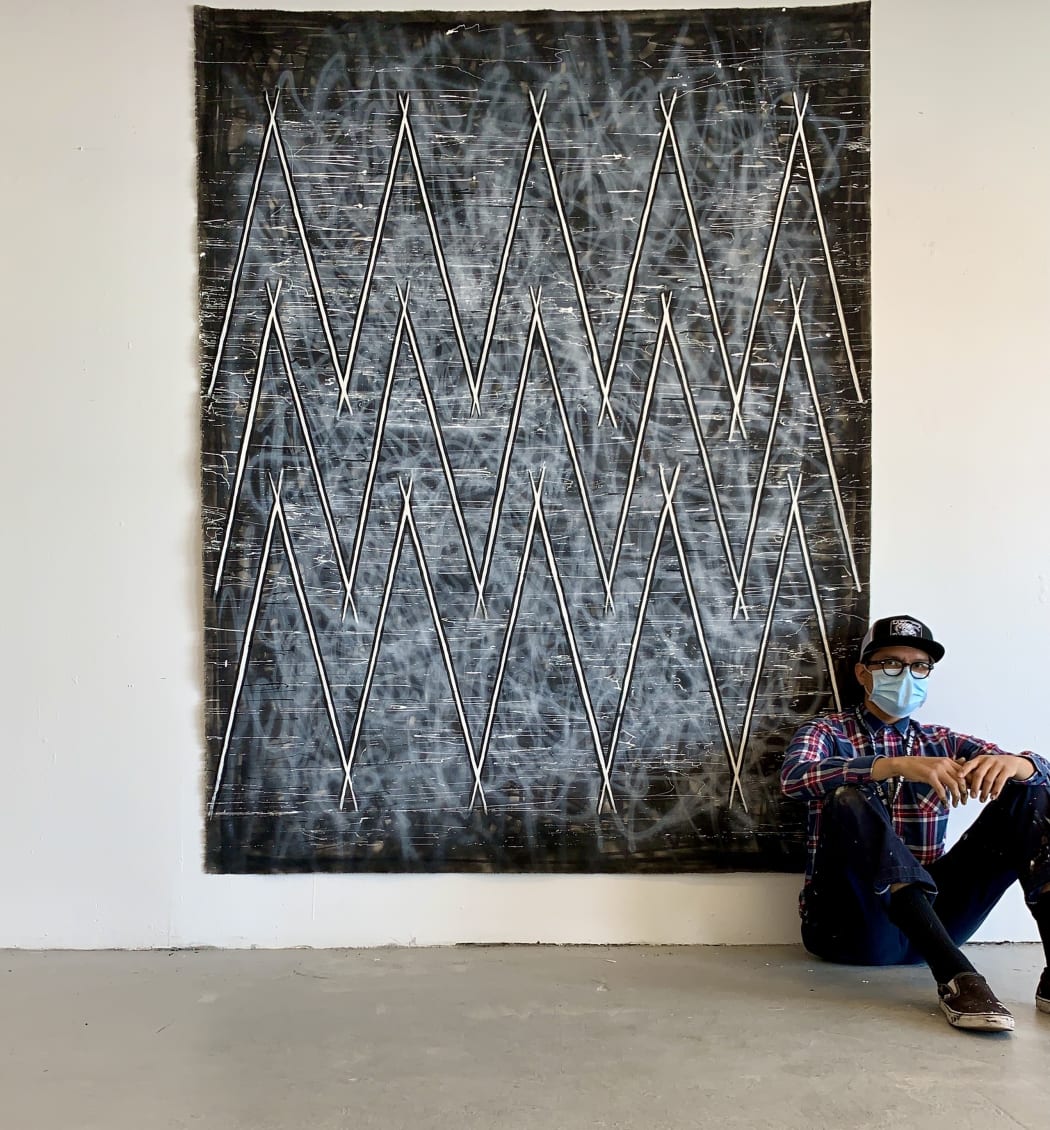 You are originally from Navajo, New Mexico located on Navajo Nation. As your work investigates identity, can you tell us more about yours and how your personal identity is intrinsic to your work?
Shi ei Diné nishłį́. To'ahani' nishłį́, Dibe'łizhini bashishchiin, Kinyaa'áanii dashicheii doo Honágháahnii dashinalí. I am Diné (Navajo). These are my clans and my identity as Diné in translation to the English language. My identity is rooted into my practice from who i am, to what inspires me to express my personal history of self, through my art. By using aspects of my life experience and combining this with the use of cultural methodologies, stories, songs, and our Diné cultural philosophies, I have established my practice to continually investigate the realms of translation from these aspects of myself and my identity. I have been able to pursue several bodies of work that make the correlation with this intent of furthering the representation and conversation of Indigneous identity within the realm of contemporary art.
Congratulations on recently earning your MFA from the School of the Art Institute of Chicago. Can you tell us a little bit about the program and how some of the works we are featuring at Modern West developed from that experience.
My graduate program at the School of the Art Institute of Chicago was a fulfilling and influential experience that was beneficial in every way, from my personal family life to my studio art practice. I am thankful I was able to work with the professors, faculty, colleagues, and contemporaries that I met while there. Establishing relationships within the arts community there led to furthering my own art practice and it was a worthwhile experience. On the other side of the spectrum, I was also able to experience, the under- representation of Indigenous peoples, students, and faculty in the art and academic institutional setting, such as SAIC. It gave me a certain awareness that I was able to use as a learning experience on my own personal path. This aspect was also translated into my work by becoming a very personal documentation, as well as addressing several issues of Indigenous identity within Western Art. The works included in this exhibition are an example of traditional substrate of a stretched two- dimensional paintings to the draped canvas paintings over the stretcher bars that embody spiritual, figural elements of nature derived from our Diné language, stories, and philosophy.
You make many of your own pigments as part of your process and you collect many of the raw materials yourself. How do you go about deciding where to gather those pigments? What is your process for transforming those pigments from raw materials to paint? Does the history or place from which the pigment originated inform the development of the design, content, and concept of individual paintings?
The site specificity of the locations of collecting pigment is both a personal connection to our homelands and also a source map of the variety of colors from all directions of the Navajo Nation. I began this body of work by traveling to these locations to collect them in their natural state. I then returned to the studio for processing which includes grinding them to powder form, then combining with either oil based mediums or synthetic based polymer mediums, serving as the binder. The mulling process then continues to form the paint medium in different viscosities, textures, lightfastness and saturation. The natural earth pigment form is also used in temporal installations as well. The thought process of individual paintings begin from the time the pigment is collected. Each piece has its own way of coming forward in this process; from its location, the color of earth in its natural location, and from the surrounding environment. Each pigment sample that is collected is used in it's own piece because of the nature of processing. I am not mixing and storing the paint made. Each amount of paint that is made is used for each piece it goes into. The connection of the cultural methodology of Diné Sand Painting from our people is made to the western art education that I also received from art school.
Your work almost becomes sculptural with the painting upon traditional bag and blanket forms. Could you please share a little bit about where that idea came from and your process of constructing those particular artworks?
The sculptural paintings came through the deconstruction of old works. It started as a way to intentionally deviate from the two dimensional substrate of a stretched canvas. From here the paintings take from the torn, cut, and then re-sewn into different compositions of reference to the blanket or medicine bag form. The focus of bringing the painting into the realm of an Indigenous perspective by allowing the sculptural forms to allude to the spiritual figures of nature, stories, and philosophies referenced, of whom would be the ones wearing these blankets or holding these medicine bags. Honoring this spiritual significance is the foundation of this work. From here the paintings also begin to create the conversation of Indigenous art objects or what is the expectancy, considered artifact, and display. This realm of Indigneous art is combined with the furthering the boundaries of painting while using the organic nature of canvas as draped for the surface, experimenting with materiality of two dimensional drawing and painting mediums, and have elements of the structures of painting substrates.
You use many repeated symbols in your works. Would you be willing to share with us more about your visual vocabulary?
Repetition of pattern and symbology have been a constant in my work. I incorporate design elements often found within Indigenous art. These geometric design patterns have meaning and aspects of our culture that are often the basis of each piece and how they take form. The patterning also has universal use within many cultures that allows the viewer to enter the work in their own way, if not fully aware of the exact meaning of the intention in my work. The patterns are grouped to take on forms and translations of elements of nature or the movement of the natural environment, which is the spiritual translation of our stories and philosophies. This is done in a meditative state of repetition and focus.
The title of your solo exhibition at MW is From the Earth to the Sky. Can you give us more insight on how your works relate to the Earth and Sky and vice versa?
"From the Earth to The Sky" is the basis of our cultural philosophy of Mother Earth and Father Sky. All of creation and natural elements have names and stories. The work in this exhibition all have their specific connotations and stories referencing these elements and this title encapsulates these works as references to the natural environment.
We noticed you recently built a new studio with the help of your family, friends and a recent grant—is that right? How has your shift in environments impacted your work so far leaving the city and being grounded where you are rooted? Where do you see yourself taking your work? What are your current goals and do you have any upcoming projects on your radar?
I was the recipient of the 2021 James Raymond Nelson Fellowship from the School of the Art Institute of Chicago. This fellowship awards two graduating MFA students from all majors of study, an unrestricted grant to continue their studio art practice. I used this grant to build a studio at home on our Navajo Nation. I wanted to be able to work from and develop my practice specifically to remain connected to our land and have that come through in my work. There is a strong empowerment in being able to do this on our homeland and for this I am truly thankful for this fellowship. This will be the basis of work to come and all future projects coming directly from where I was raised. I look forward to these works and how they will come into existence to make their way into the world, directly from my home.
Born and raised in the Navajo Nation on the border of Arizona and New Mexico (Window Rock, AZ / Navajo, NM), Patrick Dean Hubbell grew up in a very small, rural town and was raised practicing Navajo traditions and cultural beliefs. Hubbell received a BFA in 2010 from Arizona State University and completed his MFA this past spring at the School of the Art Institute of Chicago (SAIC). Patrick is one of the region's fastest-rising artists with participation in over twenty exhibitions in the past 4 years and with a current exhibition in NYC, NY at Gerald Peters Contemporary. He has been highlighted by Southwest Art's list of "21 under 31," and is a recipient of the Pollock-Krasner Foundation, Inc. Grant Award and the New Artist Society Award of SAIC. Reviews of Hubbell's work have been published in the Albuquerque Journal, the Western Art and Architecture Magazine, 15 Bytes - Utah's Art Magazine, and Southwest Art Magazine, among others. His work has been exhibited at the Heard Museum, Phoenix, AZ; The Autry Museum of the West, Los Angeles; Rochester Contemporary Art Center, Rochester, NY; and in numerous public and private collections.
ARTIST STATEMANT
"My work is an investigation of identity. I am drawn to the subtle questioning of this examination. I find inspiration in everything and I use various themes rooted in the correlation and the conflict of both my Native American and Contemporary mindset. I am equally interested in the abstract qualities of expression as well as representational imagery. Using nature, stories, philosophies, and abstract representations, I am able to depict this existence of identity. My work includes the use of bold and vibrant colors, combined with the integration of various elements of design, and a multitude of line quality and expressive mark making that often mimics what nature provides. These elements allow me to create my own aesthetic value in which reflect a personal experience of memory, physical, mental, and spiritual instances from life. The expressive personality of my work allows the viewer a momentary visual experience." - Patrick Dean Hubbell