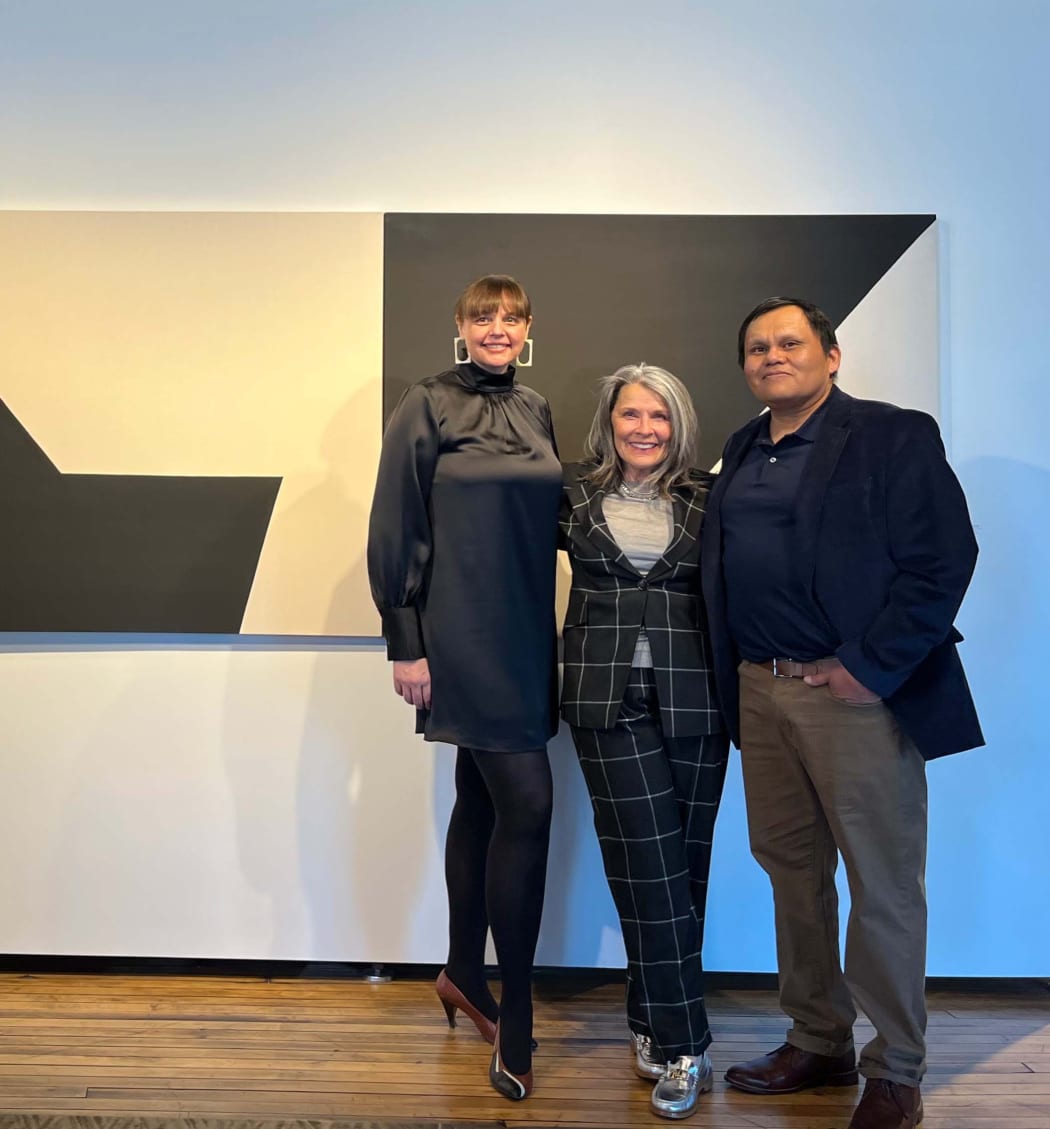 CAN YOU TELL US ABOUT YOURSELF, YOUR BACKGROUND AND THE BACKGROUND OF YOUR ARTS PRACTICE?
I have always been interested in art, ever since I was very young. I loved contour drawing, I thought it invited a sense of play to precision. I fell in love with photography at an early age and was fascinated with the idea of being able to make a photograph I wanted to see vs. what I really saw. I was interested in finding life experiences outside of a classroom setting and created numerous different programs throughout my undergraduate work to travel the world and get credit for school. I wanted to see the artwork I was looking at in textbooks in person, I was curious about the context. I made it a priority to travel and to explore different ways of living and being. I have always believed in creating the reality you want to live and so I have. I've worked professionally as an Associate Instructor, Photo Editor, Photographer, CEO, Curator, and now have the honor of being a Represented Artist and also the Director at Modern West.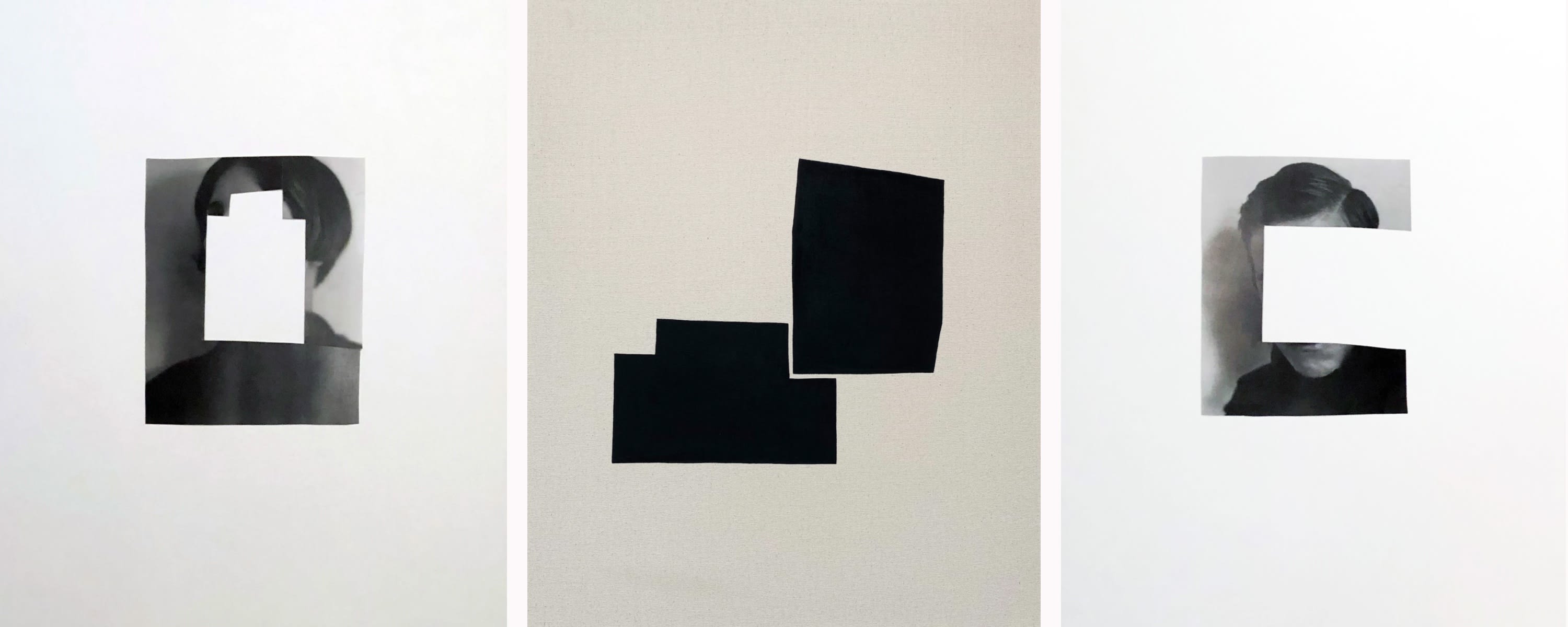 HOW MUCH OF YOUR PAINTING WORK IS INFLUENCED BY YOUR PHOTOGRAPHY PRACTICE? CAN YOU TELL US ABOUT THE TRANSLATION AND THE RELATIONSHIPS BETWEEN THOSE TWO MEDIUMS FOR YOU?
I work in a multifaceted way. My paintings are directly informed by my photography and collage practice and vice versa. I love shooting film and getting in the darkroom, it has impacted the way I view the world. When printing from film, a negative becomes a positive and a natural progression into the way I have integrated working with other mediums.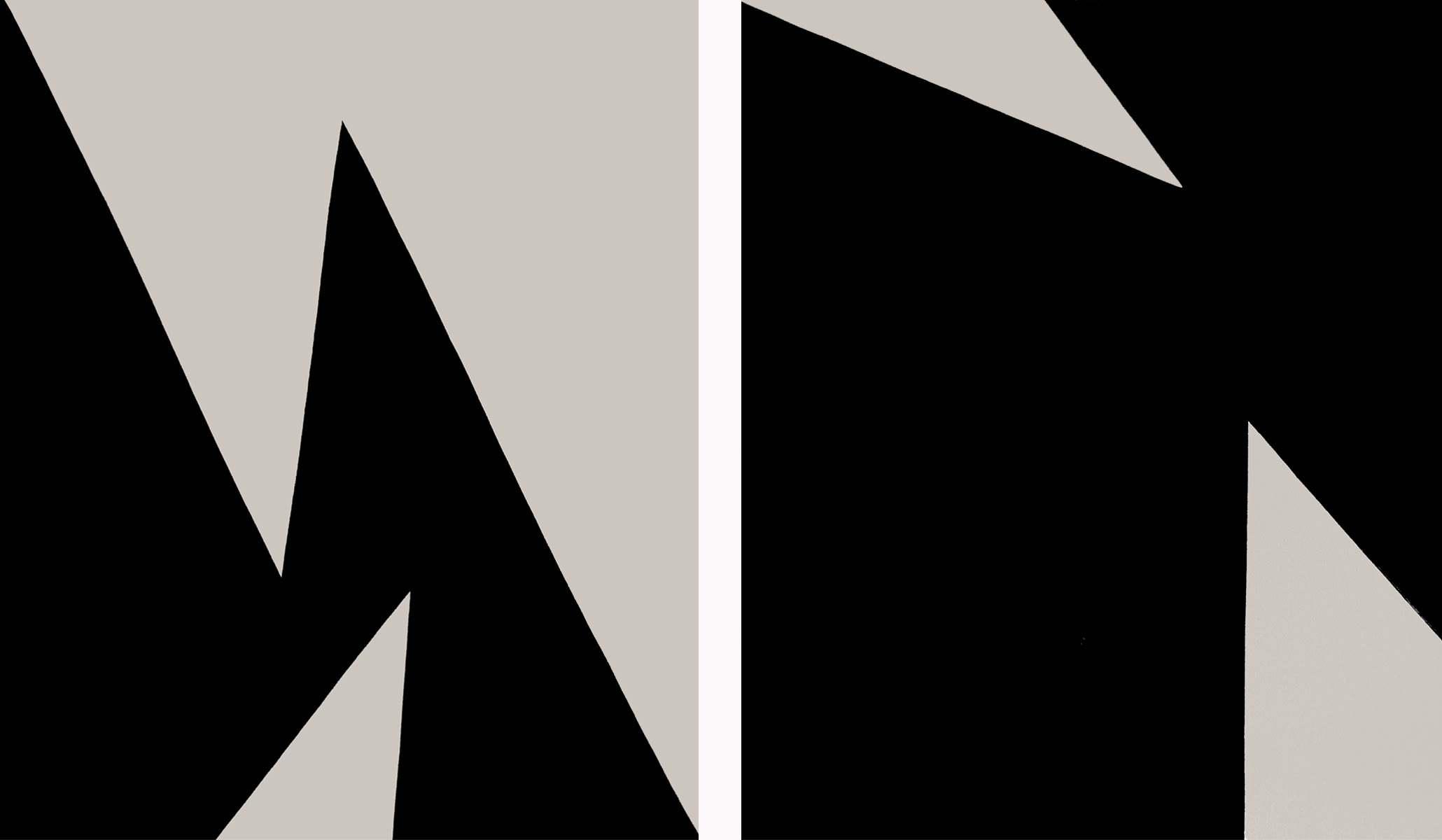 THERE IS A SENSE OF MEDITATION + STILLNESS — A SENSE OF GETTING LOST IN YOUR WORK. WHAT CAN YOU SAY ABOUT YOUR USE OF SHAPE + BALANCE, AND HOW FORM CAN INFORM FEELING?
My work is a reflection of opposition and acceptance. I am drawn to light, the way it sits, how it moves and informs other objects. Essentially I am trying to capture that light and its reflection. I am attracted to the tension of what is in between.
I want to capture the essence of what is not there as much as what is. This creates an immediate reaction of curiosity and question. The work is somewhat meditative as it is so simple and yet it is also complex. I think that the duality is what holds you and engages you to experience the work with feeling.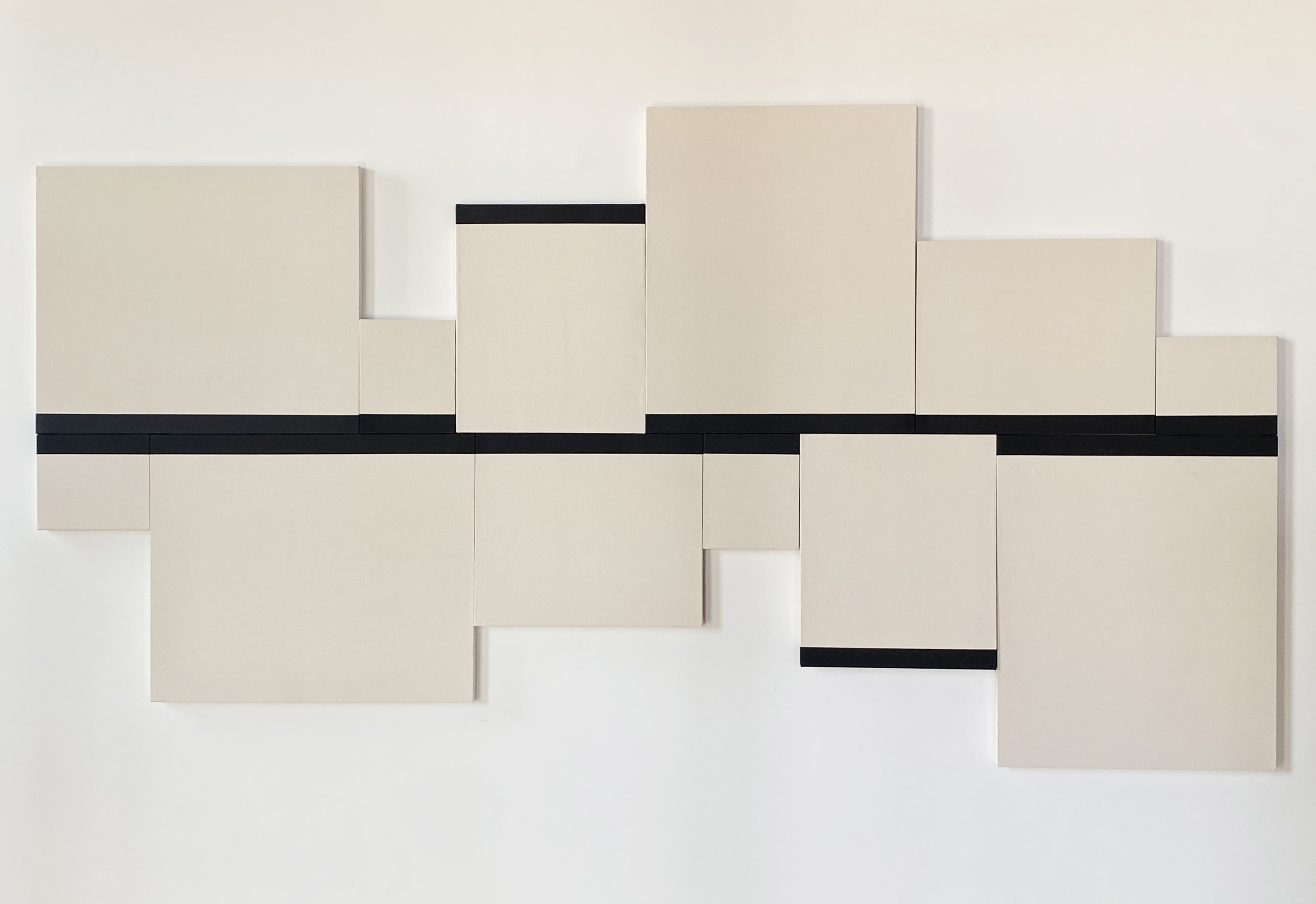 WHAT INSPIRED THE INNOVATIVE MULTI-PIECE INSTALLATION? ARE THERE MULTIPLE?

As a curator, I am fascinated with the relationship of how the work is impacted by the space and the viewer. I wanted to create works that invited the viewer to be a participant in playing with my compositions to create their own. This body of work was composed with the intention for the pieces to hang in a variety of ways. I love how curation changes the way the work is experienced and I wanted to engage the viewer to create their own experience with this body of work.

ABOUT YOUR WORK PHOENIX, 2021, YOU WROTE "THE PAINTING IS A REMINDER OF NOT ONLY TRANSFORMATION BUT ALSO THAT THER ARE SO MANY WAYS OF SEEING ONE THING AND TO EACH VIEWER THEIR PERSPECTIVE IS THEIR TRUTH." CAN YOU SPEAK MORE ABOUT THE CONCEPTUAL ENERGY OF YOUR WORKS? DOES EACH WORK HAVE A MEANING?
I think that certain works feel monumental in developing a new body of work. Phoenix was that for me. It was transformative. I started seeing the possibility of a simple composition of captured light inverted and flipped and saw how that form could be integrated into numerous mediums and compositions. The idea was moving into a sculptural direction and into a more interactive experience.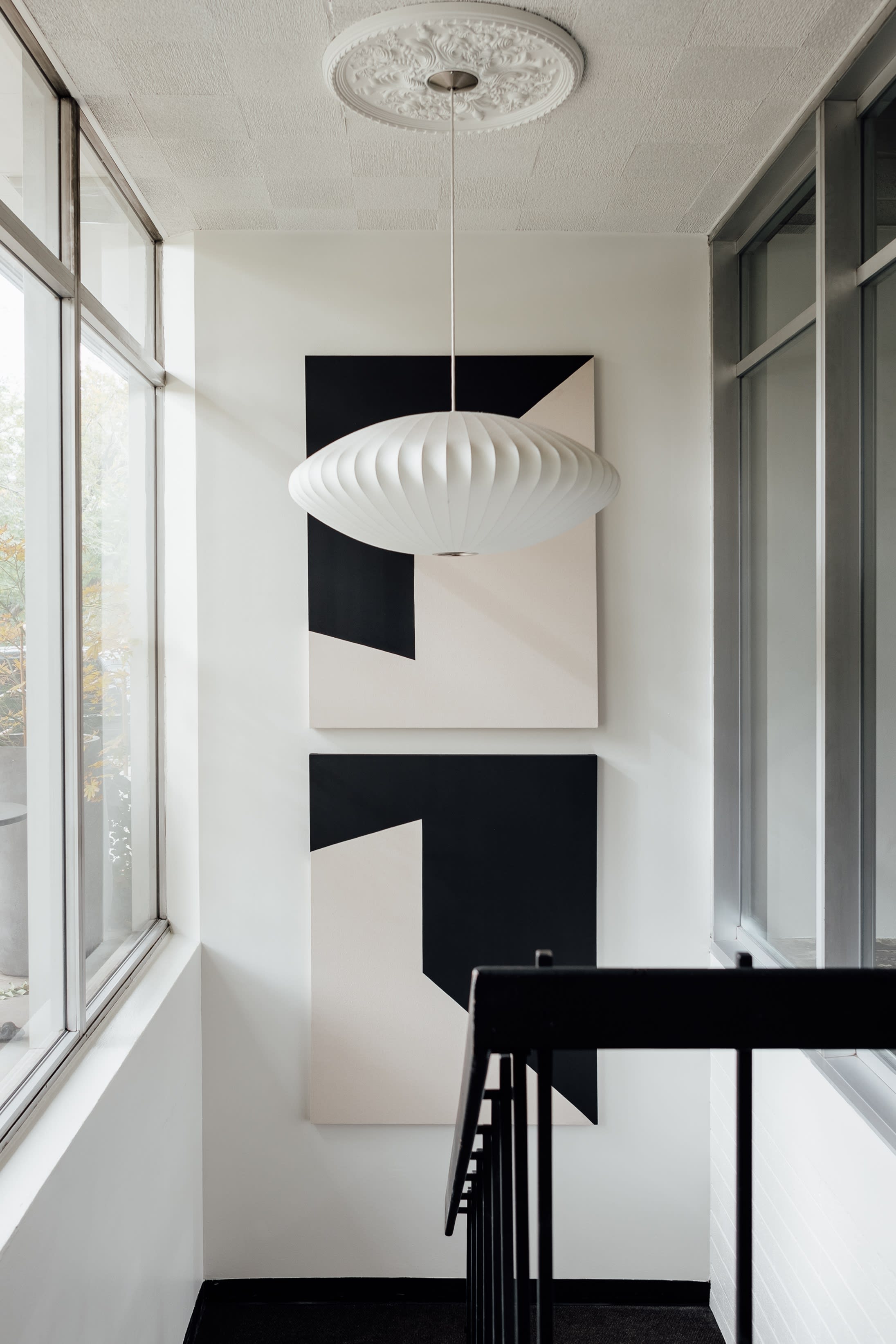 Through a collaboration with City Home Collective, I noticed how transformative my work could be within a space. I encouraged the team to hang my work however they'd like and I had never imagined it hanging vertically until it was suggested. When looking at the work in the space I could see how from my view the composition read black to white but from outside of the building it could read white to black and it was a moment of clarity where I could translate the essence of my work. Perspective is everything and it is also relative. What I was seeing was my truth but, what someone else experienced from outside was also their truth and it could co-exist simultaneously.
WHAT OR WHO INFLUENCES YOUR WORK, WHAT ARE YOU READING, LISTENING TO, OR OBSERVING OUTSIDE OF YOUR ARTS PRACTICE?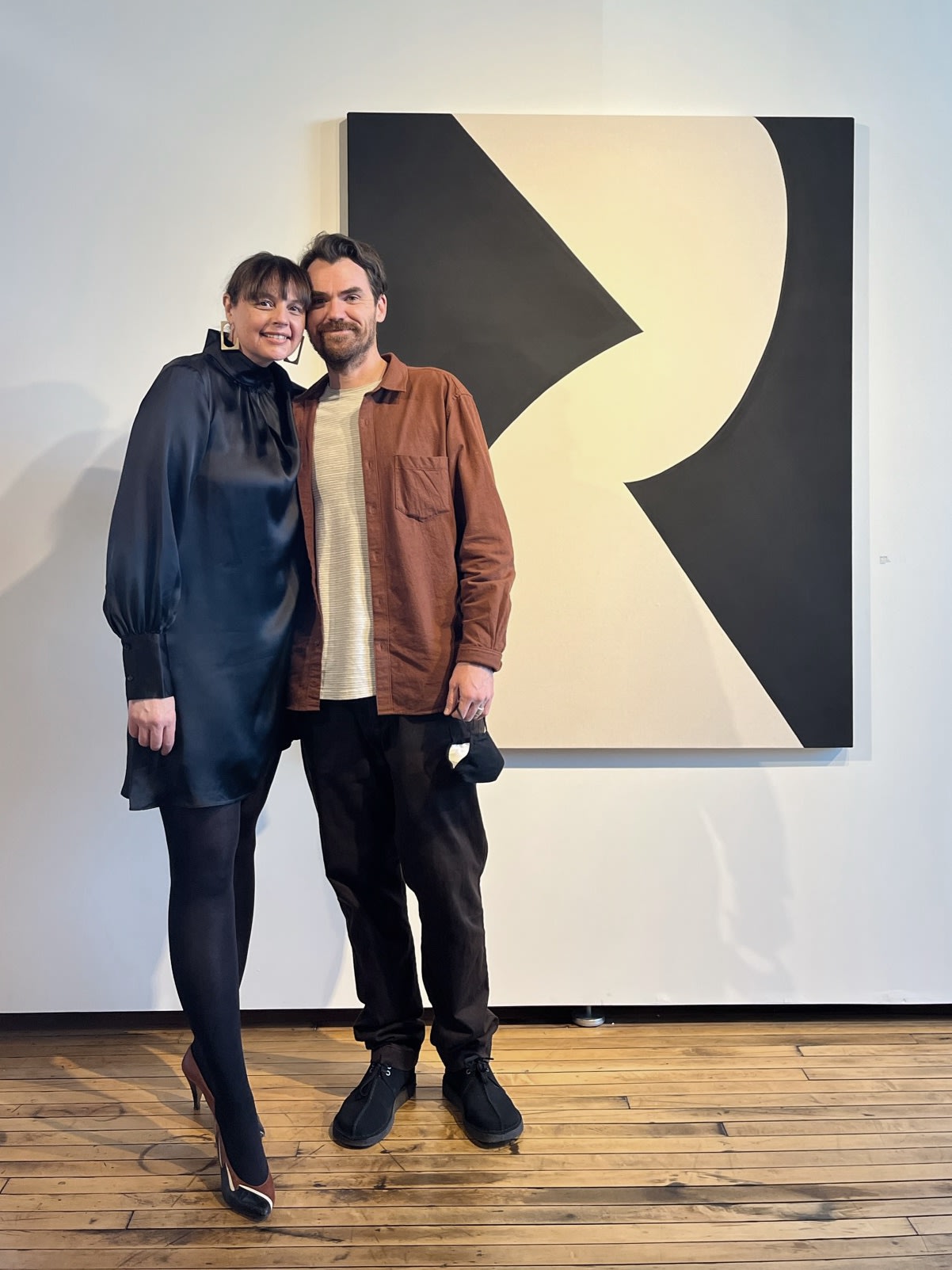 My husband Tyler Bloomquist has a direct influence on my work, He has been curating our daily soundtrack since I met him when we were in our early twenties and he was a DJ. I think a lot of what I create is an extension of our life. I am also surrounded by incredible artists daily. My full time job as Gallery Director at Modern West allows me the honor to work closely with creatives and I am constantly inspired by our artists and their process.

My work is also influenced by Lazlo Moholy-Nagy, Andre Kertesz, Jean Arp, Sophie Tauber Arp, Brancussi, Beatrice Mandelman, Carmen Herrera, Ellsworth Kelly, Vivian Maier, Peter Lindbergh, Sol Lewitt, Agnes Varda, Jean-Luc Godard, Charles and Ray Eames, Isamu Noguchi, Barbara Hepworth, Hiroshi Sugimoto, Bruno V. Roels, Katrien De Blauer, the list is endless...

Photography, painting, film, design, I spend most of my time researching what has already been done. I am currently re-reading Essentialism: The Disciplined Pursuit of Less by Greg McKeown, and How to Be An Artist by Jerry Saltz - it is my bible.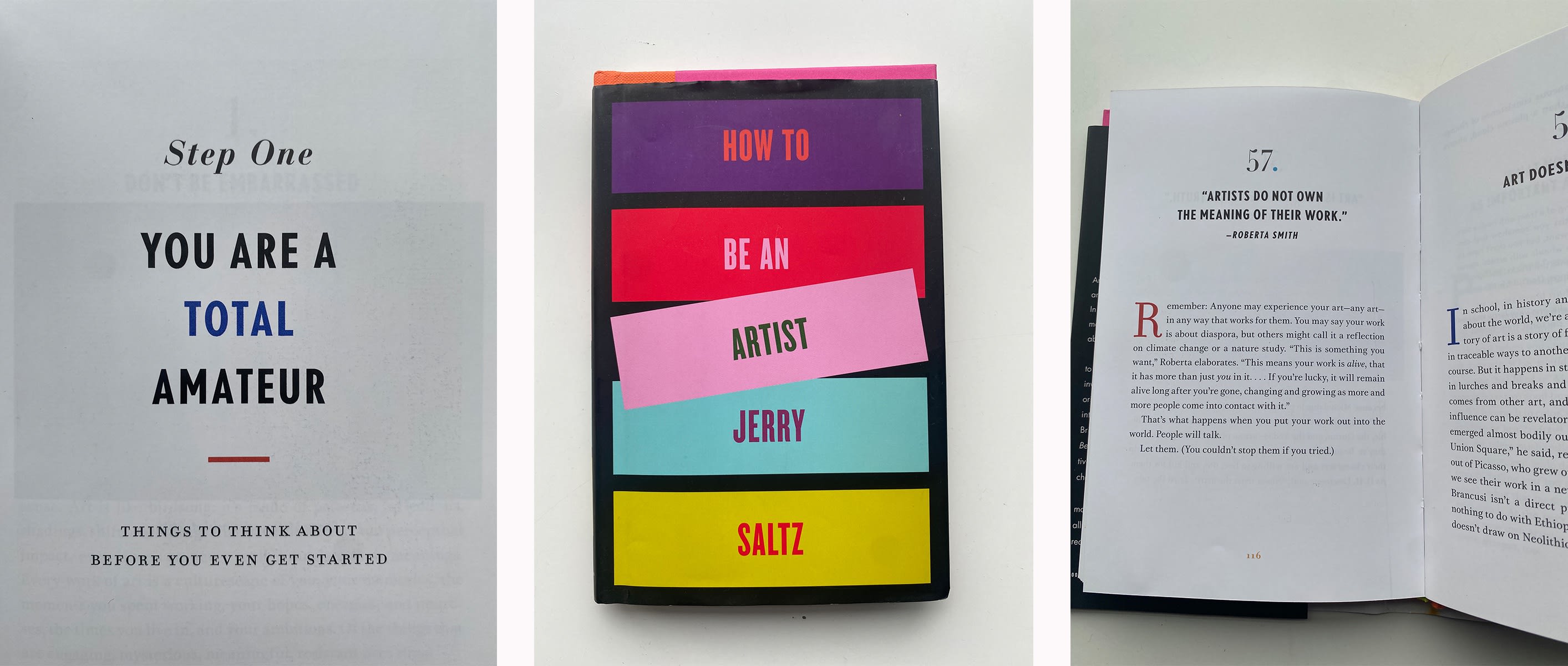 WHERE DO YOU CREATE? WHAT IS YOUR STUDIO LIKE?
I live in downtown SLC at Rubber Company with my husband who is also an aritst. The building used to be an old tire factory and was transformed to be live/work spaces for artists. We have created an environment together that encourages us to continually be developing our work. Our studios are an extension of our living space. It is loft-like and has beautiful North facing light.
My studio is in the back half of the space and Tyler has a music studio and usually paints in the front half of our space. The location is central and the flexibility has been essential for us in cultivating a lifestyle that prioritizes creativity.

WHAT CAN YOU SAY ABOUT THE WORKS INCLUDED IN THIS CURRENT SHOW AT MW? HOW ARE THEY SIMILAR AND HOW DO THEY STAND OUT FROM YOUR PAST WORK?
The new works are an evolution of my earlier work. It is all inter woven but I have finally tied together my love for curation and viewer engagement into the work.
WHAT IS NEXT ON YOUR RADAR? ANY PROJECTS YOU ARE LOOKING FORWARD TO?
I am very excited about an upcoming collaboration curated by 801 Salon hosted at Modern West featuring Heartland Collective in "Convergence." The concept is to reveal the relationship between spatial design, costume design, audience, performer, the collective and individual. The performance will be by Heartland Collective, choreographed by Molly Heller and will feature artwork as a backdrop at Modern West by Sheldon Harvey and myself. Our goal is to invite the audience to consider what it means to interweave, roam and converge.
I was honored to be invited to paint the dancers shoes and am excited to have multiple mediums featured simultaneously in the gallery. I have always been blown away by artists who are able to use thier bodies as a medium. Only a few tickets are left I hope you can join me this Saturday evening, you can check out details here...
Also, I am curating an upcoming show by so many talented artists this Spring at Modern West including Andrew Alba, Fidalis Buehler, Mitch Mantle, Jiyoun Lee-Lodge, Aïsha Lehmann, Wren Ross + Matthew Sketch in an exhibition on identity titled "You May Find Yourself." Mark your calendars for the opening May 20th, you do not want to miss this show!
I am very honored to be working with Jessica Kinsey, Executive Director of Southern Utah Museum of Art in co-curating a show with Modern West which will include Modernists Mandelman and Ribak along with 2 contemporary artists inspired by Modernism, Arlo Naminga and myself. The show will open at the museum in June and Modern West will be featuring a concurrent duo show of Modernists Mandelman and Ribak opening in July. We are always looking for opportunties at the gallery to collaborate and value our partnerships so much! Please reach out if you have any ideas suggestions in working together.