Tell us a little about yourself and your current work.
I'm fascinated with racial identity formation. While race is a social construct, we cannot deny its reality in our history and current society. My work last year focused on specific individuals, but I've begun to shift focus to aspects of identity which can be more universally applied. My mind is often occupied by the paradox of the natural and familial roots from which we all come, compared to the man-made and societal influences which often reap stratifying results based on one's identity.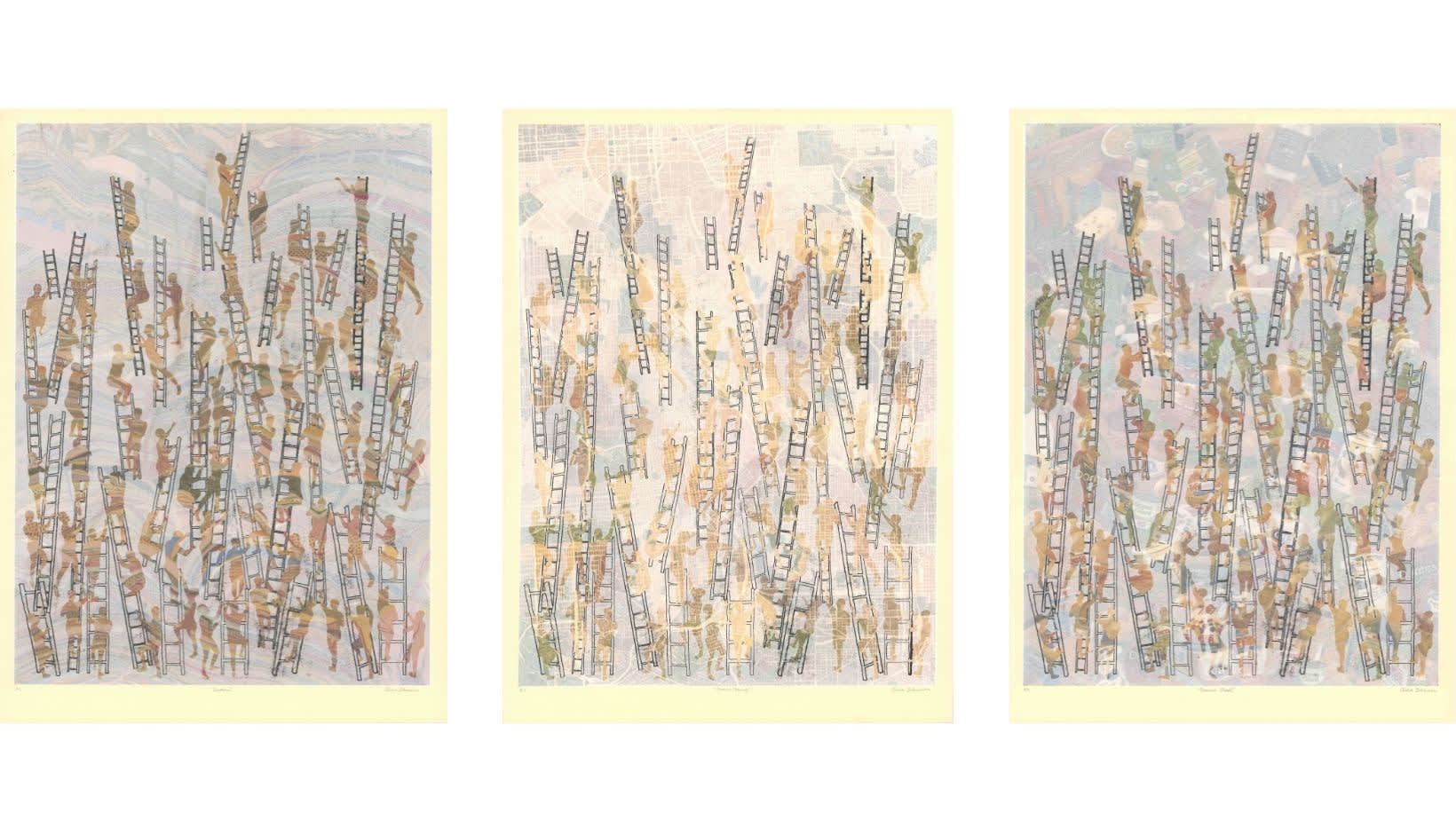 How is your process and work integral to you, your environment, your community?
History, social science, and literature which explores race is often highly politicized or placed in too academic a realm for the subject matter to feel safe or approachable to most people. Art is a pivotal way to make such important concepts more accessible and hopefully embody the nuances and complexities of race in simple and digestible ways.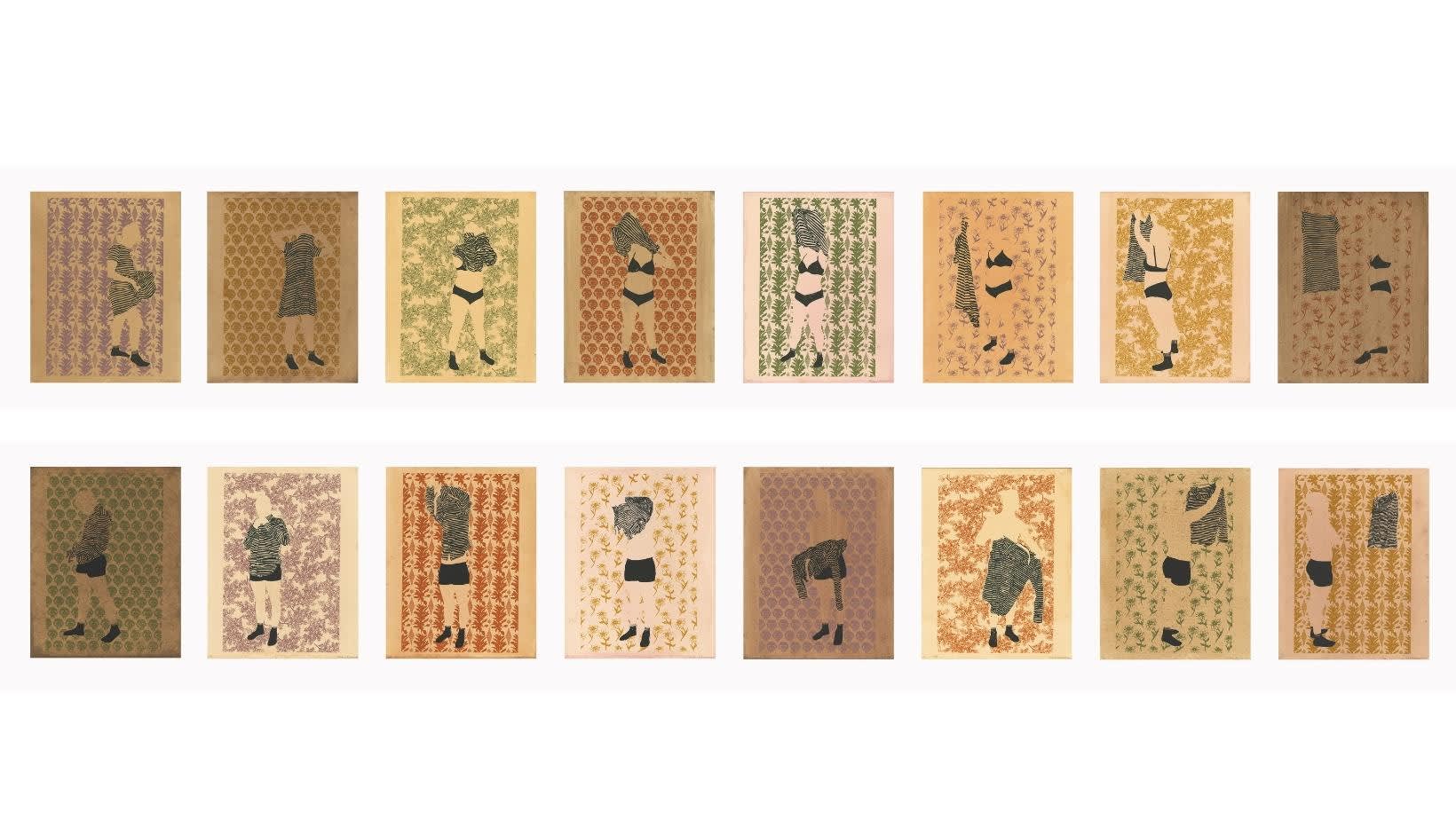 What are you experimenting with in these new works? Is there symbolism or meaning behind certain aspects included in the new works? Clothing, chairs, etc.
I've been thinking about clothing as a symbol of identity, the societal aspects given to us, which we wear daily as a performance of that identity. Particularly for mixed identity, the use of a striped black and white shirt felt like a simple but significant way to show the privilege of a mixed person to remove or put on their identity depending on context. At the same time, the impermanence of the clothing shows the complexities and difficulties of the dual identities and constant switching based on outside context. Also, the act of removing one's "racial identity" to examine it more closely is an experience many mixed race individuals go through in their early adult years, an experience I have personally had as well as had the opportunity to research during my undergraduate.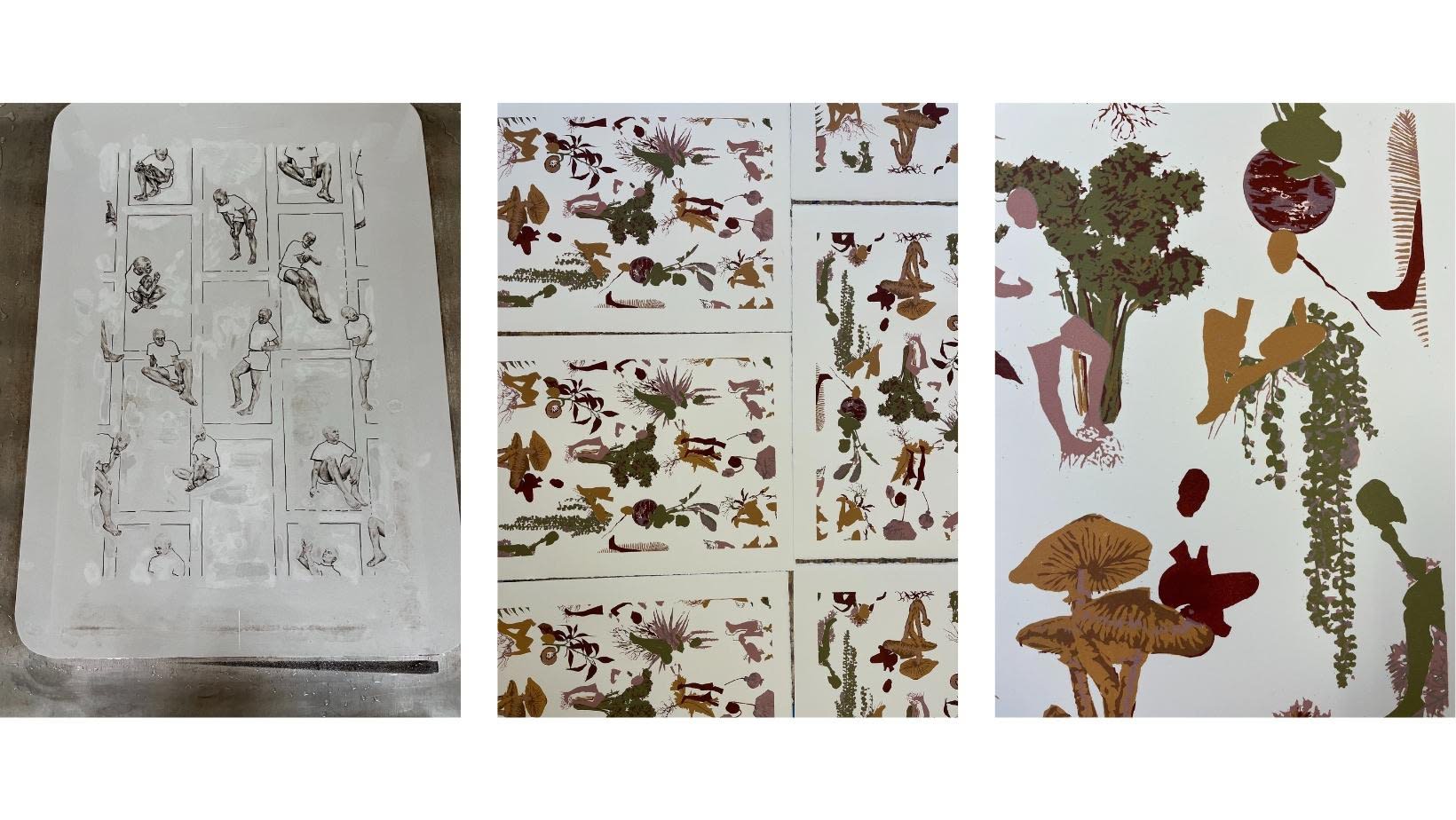 I also have been exploring plants with roots as a symbol of familial origins and heritage. Plants that are used for cultural food in particular speaks to this idea. The figure is part of the roots yet still separate. It leans on and grasps the roots but also is fascinated with the other identities all around. The expressions reflect a sort of compare and contrast game, a hierarchizing mindset, either yearning for another's identity or looking down on others. As in the past, I also think about how boxes–both in naïvely drawn lines or the frame of the piece itself–speak to the societal categories which limit and box in a natural human identity into a specific man-made race or ethnicity.
In your 'Mixed' series created while in residency at Modern West, the background designs of the works are each significant to the figure, providing context for their lives and identity. What role does repetition of florals and patterns play in your recent work? How does the background interact with the figure to create a fuller picture?
My response above regarding plant roots answers this question to an extent. In general I still view these floral and fauna backdrops as a symbol of the natural and organic aspects of identity, before societal interference.
Where did you draw inspiration from for these works? Have other MW artists in this exhibition influenced your work?
Recently I've drawn inspiration from different vintage posters and images which relied on printmaking methods. For example I have been fascinated by taxonomy-like lithographs of flowers, plants, and vegetables. I also have been intrigued with narratives and sequences, almost in the form of a book, but displayed in such a way that each snapshot of the movement can be seen at once, such as one of the first photographs in motion "Horse in Motion" by Eadweard Muybridge.
Fidalis has been an influential mentor to me over the last few years. He was one of my professors at BYU and was my advisor for my final BFA show. I've grown so much through his art critiques, encouragement, and how much he pushed me to apply to things I didn't think I was qualified for. I owe him so much for the opportunities I've had during my undergraduate and with Modern West.