Can you tell us a little about your background and when you started making art? When did you first begin working sculpturally and what inspired you to use sculpture as your medium? And what is your process for applying automotive paint to these works?
Making art is just something I have always done. Constantly drawing when I was younger, but building things too. I would build tree houses and skateboard ramps with my dad and brothers. I also worked construction in the summers, through high school, building houses in Los Angeles and Orange County. I thought I wanted to be a painter when I went to college. After taking my first sculpture class I changed direction - sculpture brought everything together for me - the art making and the building things.

I will say though, I do think of these works as paintings. They always have a flat side. They are extruded shapes really, shaped canvases. With the wall hanging pieces, I think this is even more the case. Paintings using materials that are more in the traditional realm of sculpture.


As far as applying the paint goes, it is just like painting a car. After I fabricate the works out of steel, I clean them, etch them, and then apply an automotive primer. The paint is automotive paint. I use a single stage paint, it holds up better after being scratched and sanded. I love going to the auto paint store, they have these big old books of old car colors. For instance the little blue bus in the show is an old Volkswagen color- Neptune Blue. The Auto Paint store can also color match, so really any color you can think of is available.

Where did you find all the car hoods included in this exhibition?
I found most of the hoods through the classifieds, Craigslist, Marketplace, etc. Hoods are easier to find than some other vintage car parts. Hoods often get replaced with carbon fiber hoods for weight savings when old cars are getting restored/modded. Some of these older hoods are quite heavy. I got the idea of hanging the hoods after visiting a friend of mine who used to race. He would hang his old hoods on the wall of his workshop - like trophies. On their own on the wall, I thought they made great paintings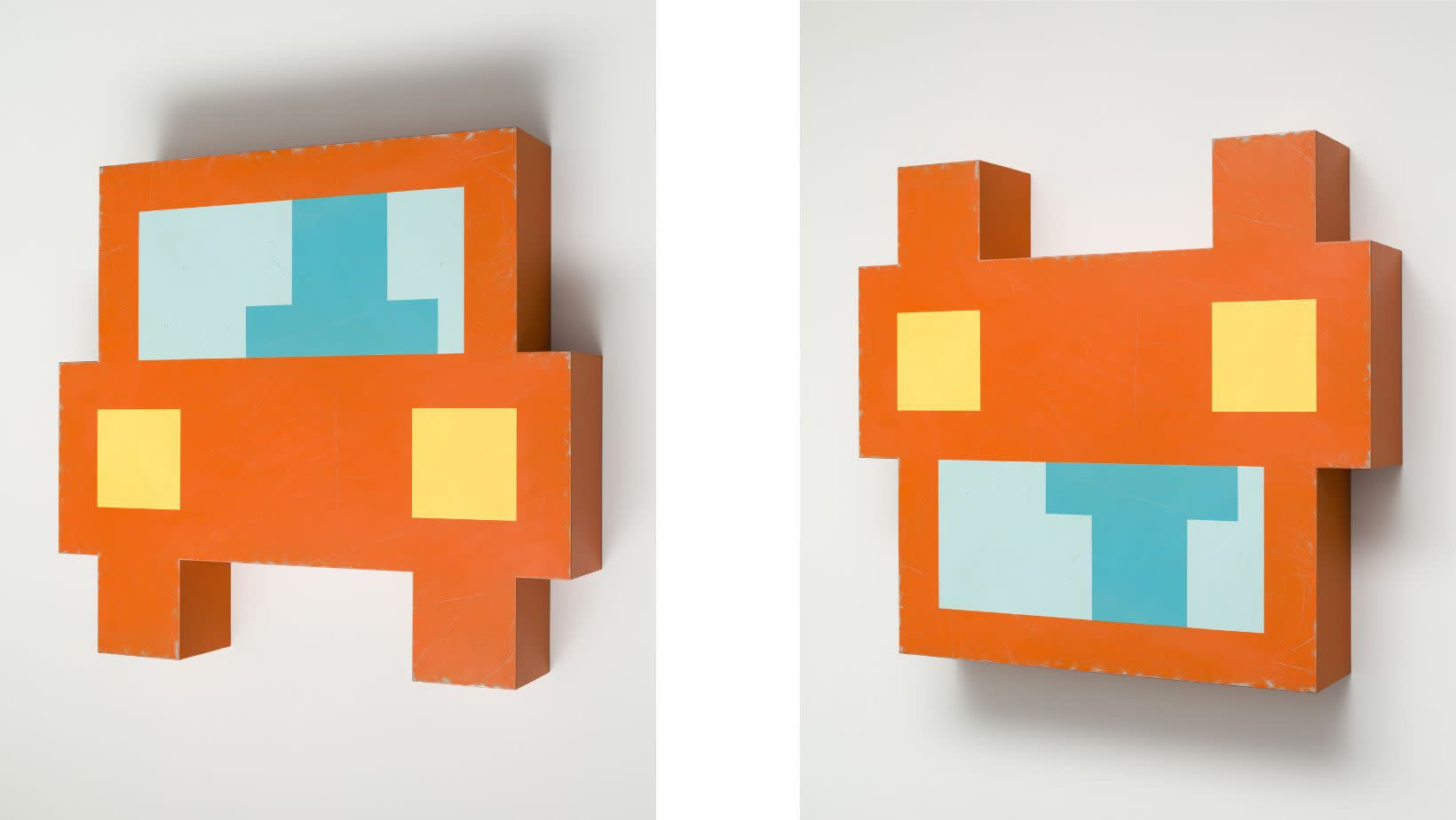 Car Demon
is a stand-out fabricated steel wall hanging in the exhibition, distinct because it can be rotated to either reveal the image of a car or the image of a playful demon. Can you speak to this work and your intent to "communicate as much visual information as possible with reductive simplicity." Does
Car Demon
mark a new direction for you and do you plan to make other works that reveal dual images or meanings?
I wouldn't say it's a new direction but something I am exploring along the way. I think of it as a visual palindrome. The same shape rotated reads as something else. I have made a few other works in pairs like this. Ghost and Castle, and Little Green Man and Lucky Rabbit Head. I do try to simplify my images to the fewest squares possible to represent an object. Sometimes simplifying an image that way pushes toward abstraction. Turned in different directions the imagery can be read very differently. I noticed this while making larger works, they would have to be rotated during fabrication and I would sometimes like them better upside down.


What's next for you? What other projects do you have on the radar?
I am currently working on fabrication for a public artwork that will be my tallest yet. It is at a dream location in Sunnyvale CA. It will be in front of Google's new Mass Timber building at the site of Atari's first headquarters. Some serious pixel heritage there. I am also looking forward to another show next year with Modern West. I've got a few things planned that are a bit of a departure. Still pixel based though.