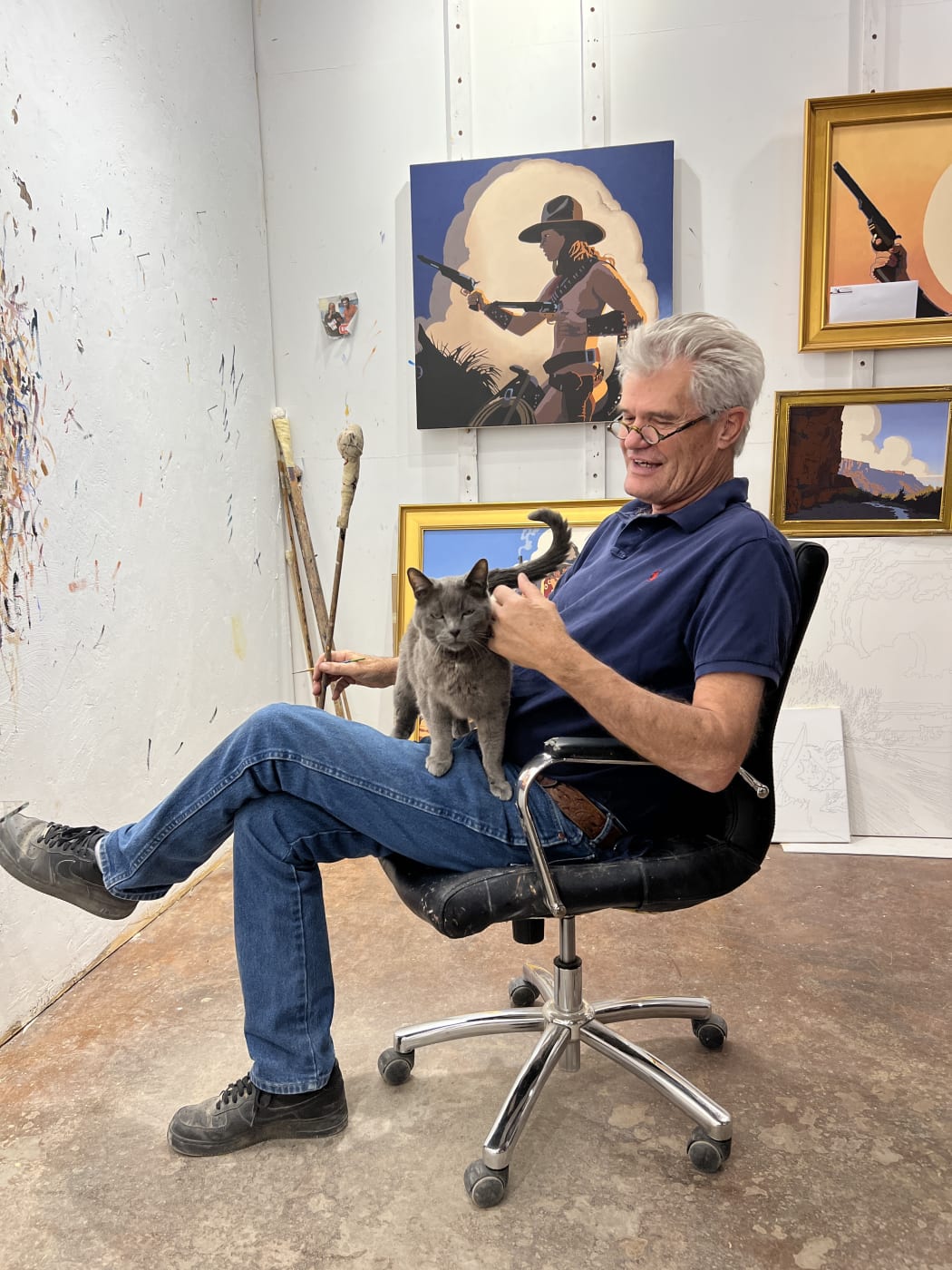 MODERN WEST DEBUTED YOUR FIRST EVER ALL-LANDSCAPE SHOW LAST JANUARY, 2022 IN UTAH A LAND LESS TRAVELED. ON THE ANNIVERSARY OF THE NEARLY COLD OUT SHOW WE RELEASED 15 NEW PAINTINGS YOU PRODUCED IN 2022 AS AN EXTENSION TO THIS IMPORTANT BODY OF WORK.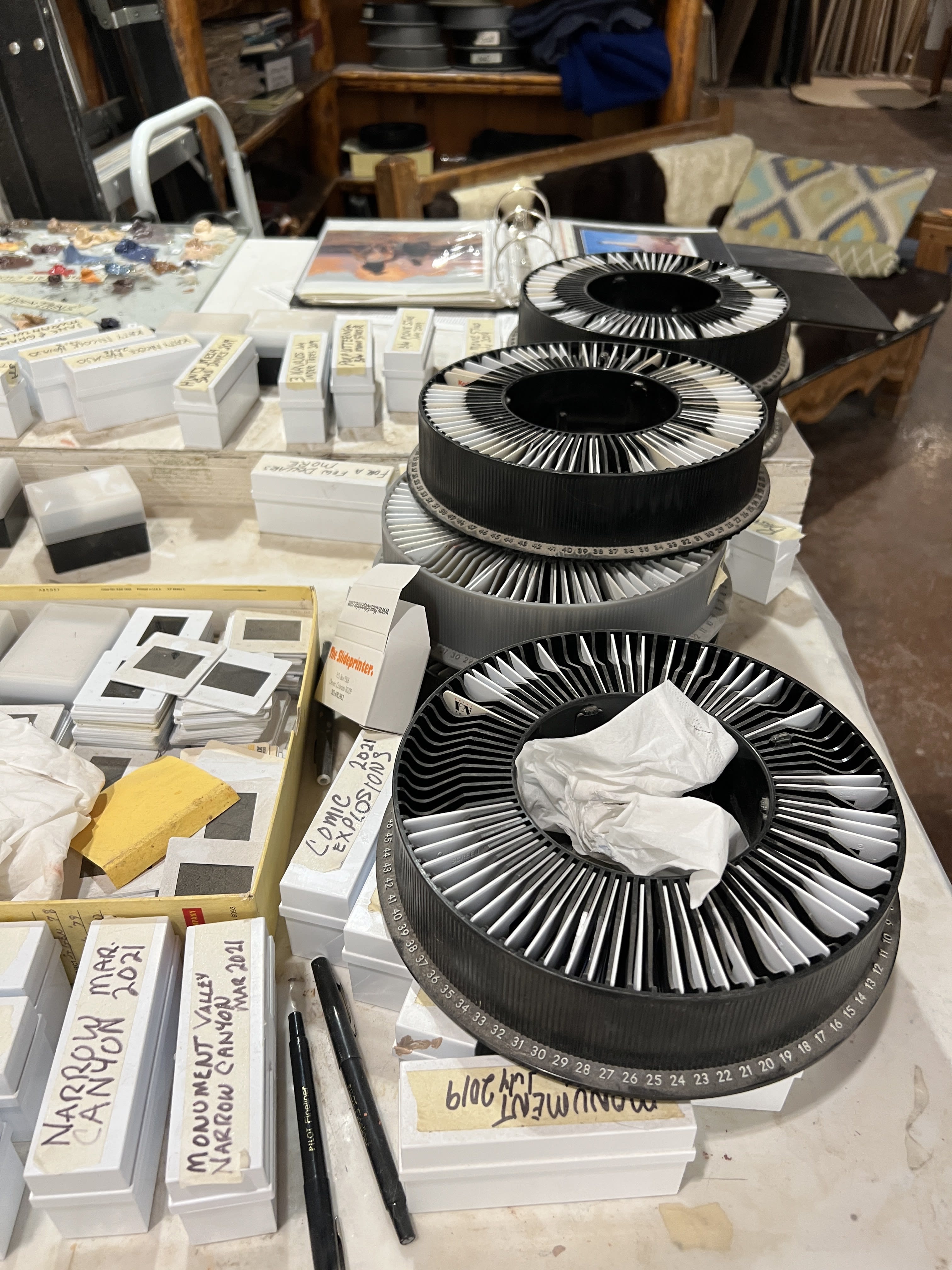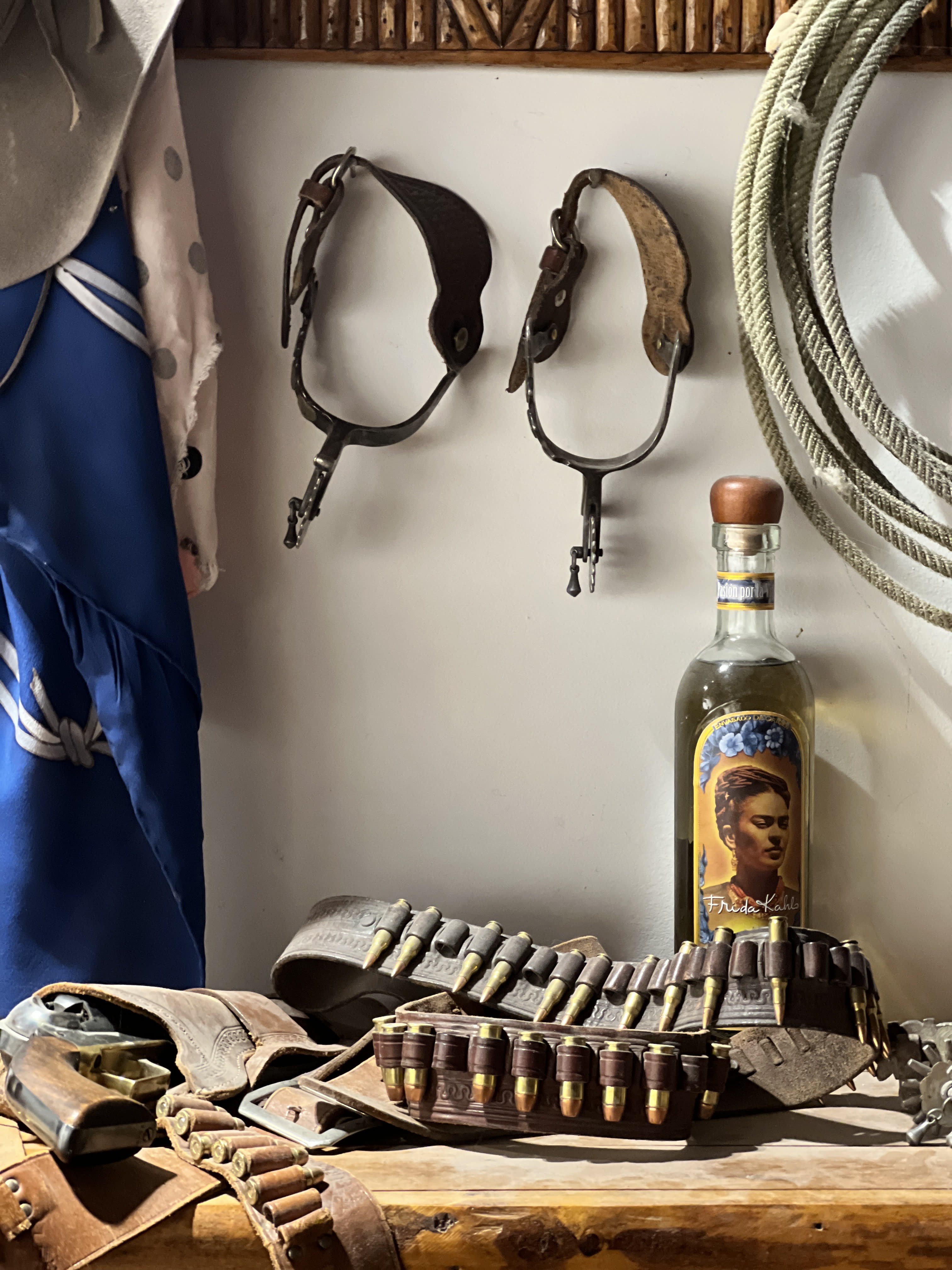 ARE ALL OF THE NEW PAINTINGS INSPIRED BY THE UTAH LANDSCAPE?
Yes, I go out to Monument Valley and surrounding areas such as Fry Canyon, the north end of Lake Powell, and Canyoonlands. I'm out there about twice a year for the last 30 years.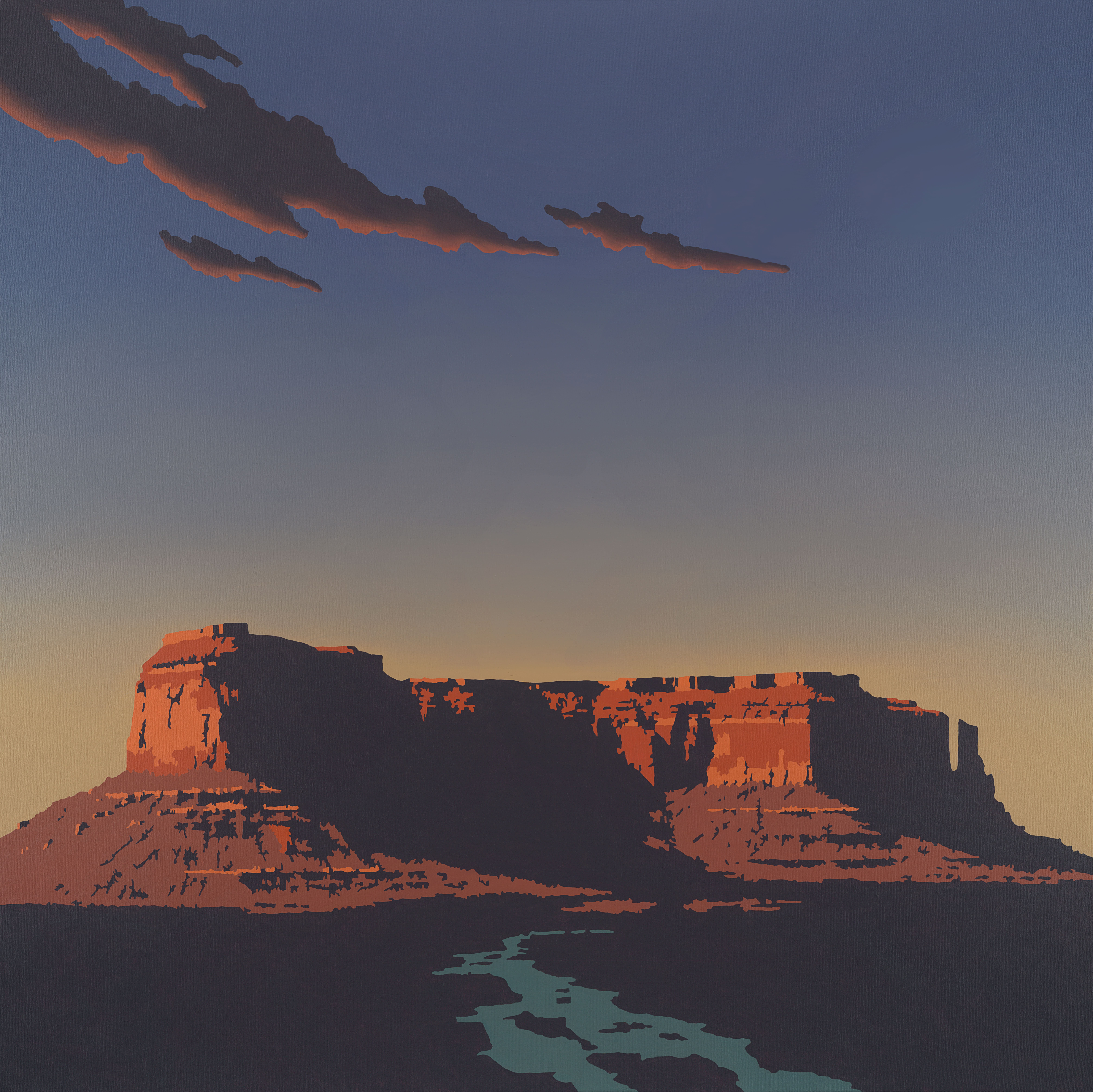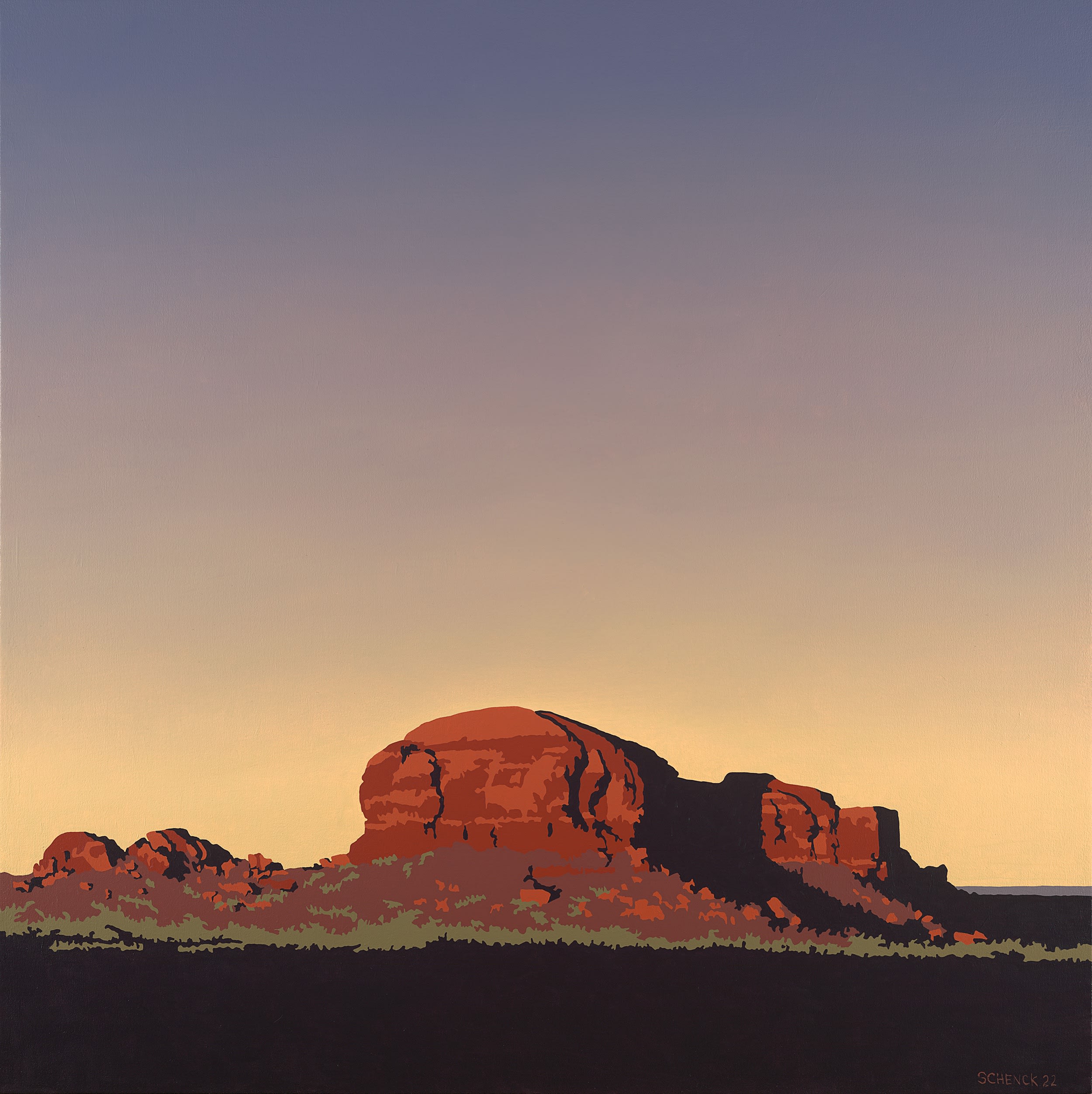 CAN YOU TELL US HOW YOUR PROCESS HAS CONTINUED TO EVOLVE? SPECIFICALLY YOUR INTENTIONAL APPROACH OF BLENDING YOUR PALETTE MORE AND JUXTAPOSING THAT AGAINST YOUR SIGNATURE PAINT BY NUMBER POP STYLE.
I did a small study and I dropped out all the information on the shadow side and then reduced the direct light side to 3 or 4 colors, then made the skies (in some of the paintings) a total blend from horizon to the top of the canvas without introducing clouds or just two small high clouds in "Dusk at Spring Creek." By making a highly reductive image, it put a lot more pressue on the success of doing a perfectly blended sky. I began referring to these as my Mark Rothko landscapes. They looked, to me, like color field paintings, but anchored with a mesa at the bottom of the painting.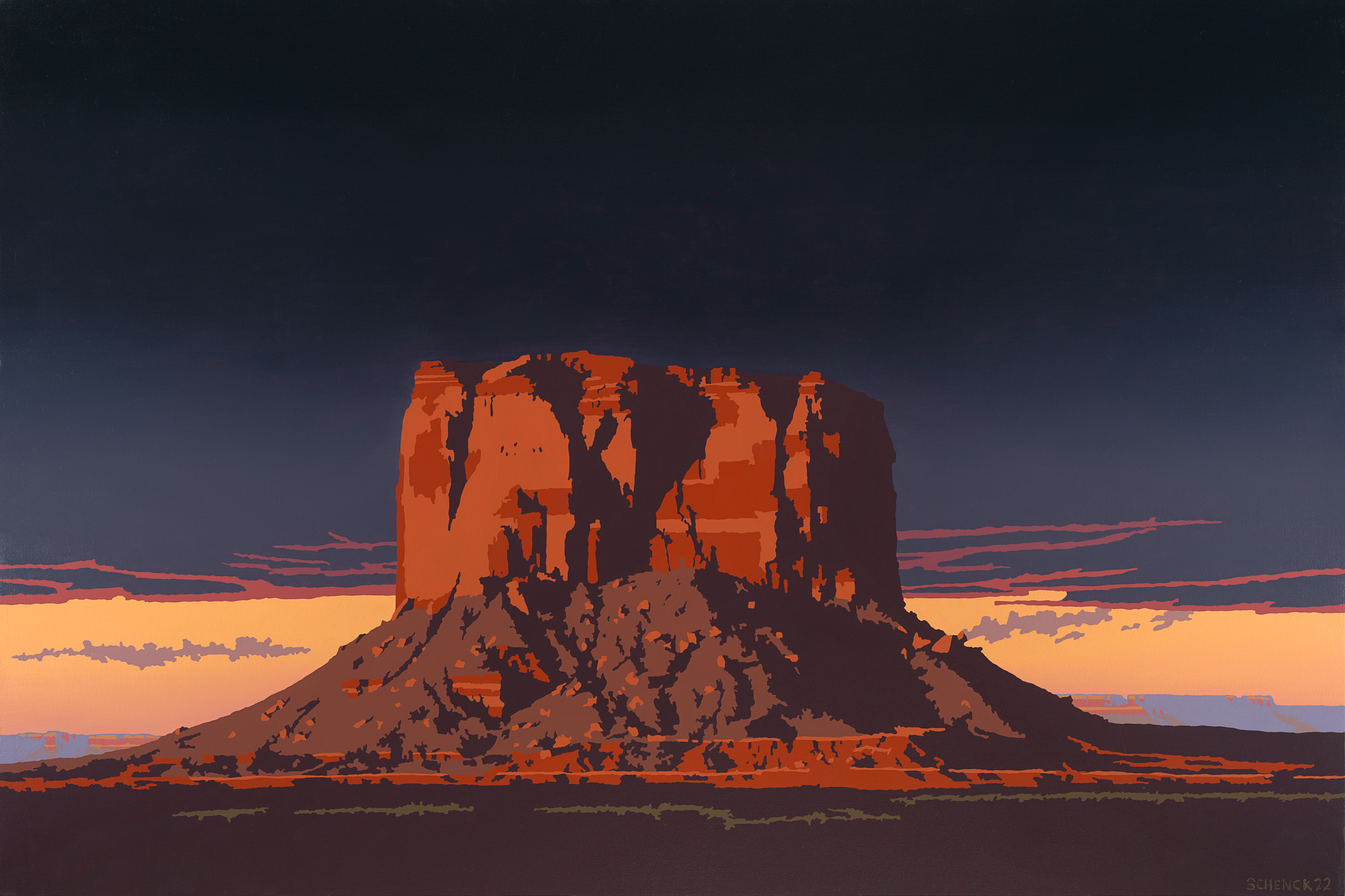 YOU ARE CONSTANTLY PUSHING YOURSELF AS AN ARTIST AND THE BOUNDARIES OF YOUR WORK. IT IS DIFFICULT TO SAY MORE WITH LESS, WE NOTICED IN THIS CONTINUED BODY OF WORK YOU HAVE PULLED BACK IN YOUR COMPOSITIONS. THIS IS A BRAVE LEAP AND EXECUTED SUCCESSFULLY. WHAT INSPIRED THIS DIRECTION AND DO YOU SEE YOURSELF CONTINUING IN THIS WAY?
I did this reductive approach for some of the paintings, then I reintroduced figurative elements like "Sheep at Cly Canyon" and then in "Among the Mesa Walls" and finally in "A Brief Encounter." Somewhere in between these, I painted "Portrait of a Mesa." There was more information, but I wanted to see what a dark cloud hanging over a mesa would look like. The challange became a "warm" shadow on the mesa against an equal value but slightly bluer cloud mass. It had to make the mesa exist in front of the cloud. It does by using warm and cool values to create depth of field.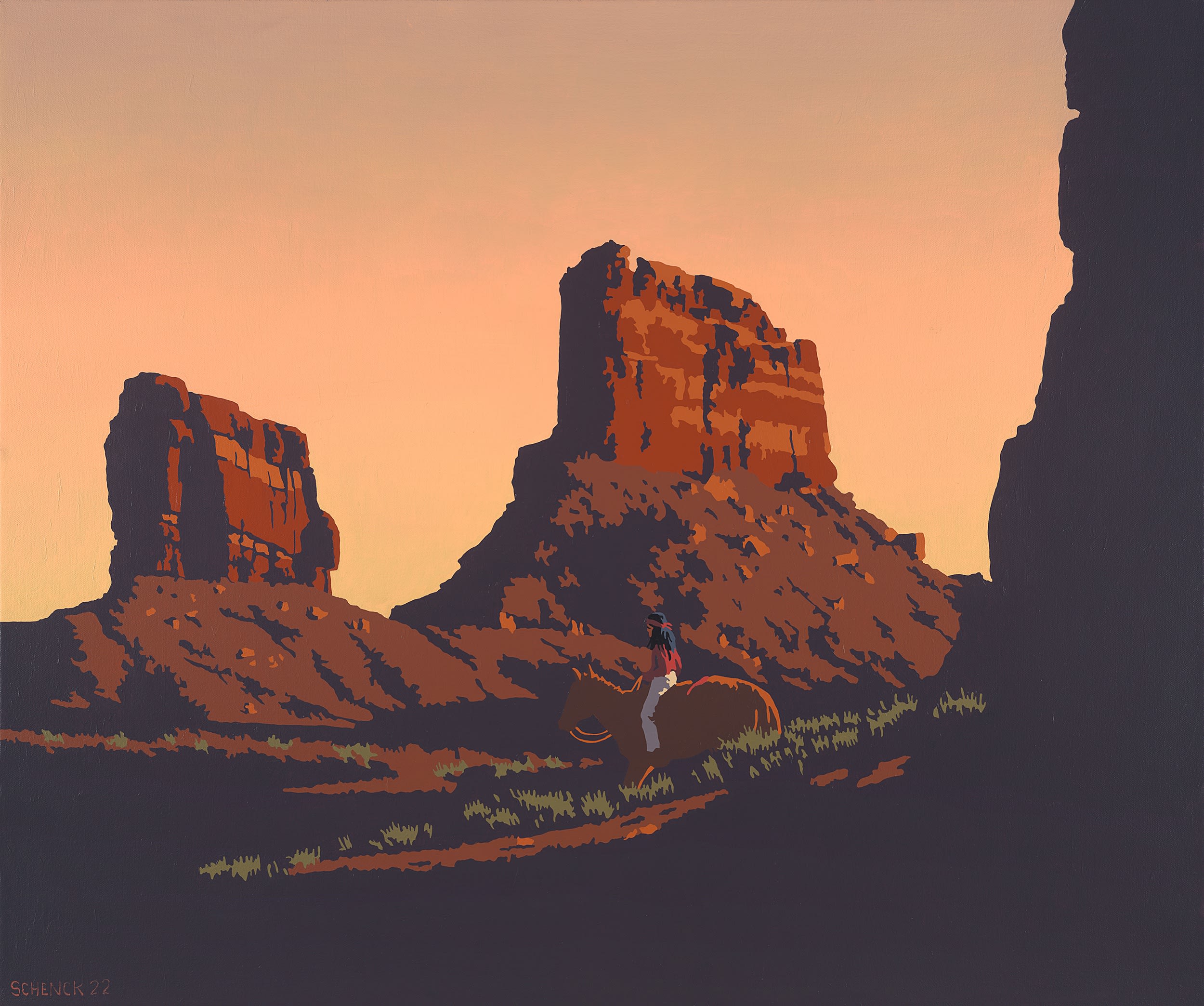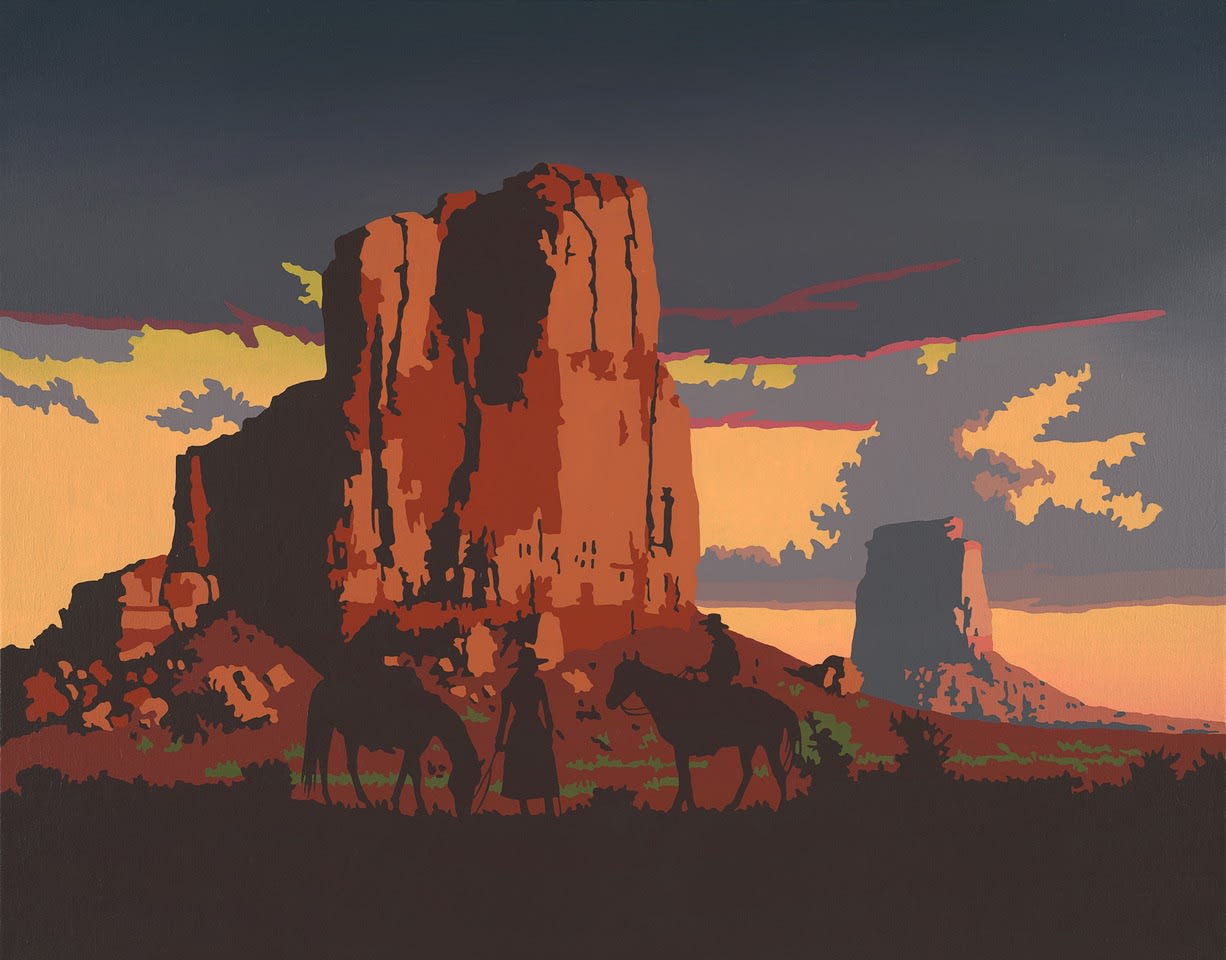 YOU CAPTURE THE ESSENCE OF THE WEST IN A DISTINCTLY RECOGNIZABLE WAY. THESE LANDSCAPES CREATE A SENSE OF NOSTALGIA AND BELONGING THROUGH THE WAY YOU HAVE INTERPRETED THE LIGHTING. SHEEP AT CLY CANYON EMBODIES THE SHIFT FROM A SINGULAR CINEMATIC PERSPECTIVE TO INCORPORATING ALSO A SENTIMENTAL REFLECTION. CAN YOU GIVE US SOME INSIGHT TO THIS EVOLUTION?
If the viewer perceived the figures being included in these 3 paintings as nostalgic or romantic then I achieved my intent. Without the figures becoming the main focus, which I would normally do by making them a larger scale or more dominate, I deliberately made them very small to just give a hint to the fact that this was in Navajo country. Their presence is an essence, like a reminder, just a different narrative than usual.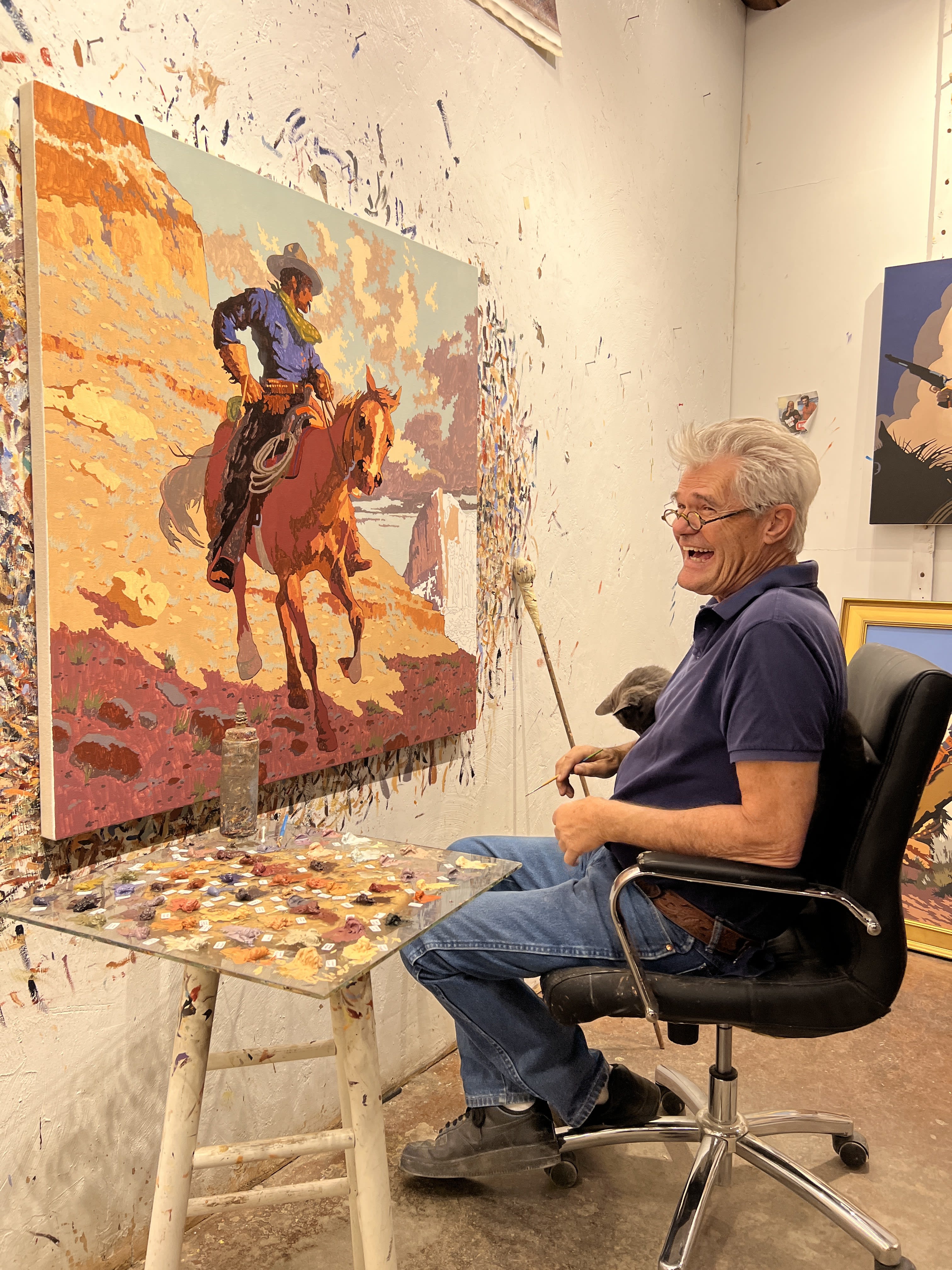 BESIDES PAINTING AND RANCH SORTING, WHAT DO YOU HAVE UPCOMING THAT WE CAN SHARE WITH COLLECTORS TO KEEP ON THEIR RADAR? EXHIBITIONS? PROJECTS? ETC.
There is the Andy Warhol: Cowboys and Indians and Billy Schenck : The Myth of the West coming up in May at the Scottsdale Museum of the West in Scottsdale, Arizona. I also have a retrospective of 46 paintings in July at the Museum of Western Art in Kerrville, Texas. I will also be included in a landscape show at the Southern Utah Museum of Art with Jimmie Johnson in July. I have a two man show in New York in September (about the same time as the Yankees will be starting their run-up to a potential 28 th World Series win).