Abstract horses, bird myth murals and a reclaimed swap meet trailer are featured in new exhibits across the Southwest by three very different Indigenous artists.
Hailing from different homelands, artists Sheldon Harvey, Nani Chacon and Brad Kahlhamer are at the top of their mesa game with powerhouse shows in Utah, New Mexico and Arizona that explore and explode contemporary Indigenous art.
Taking cues from tradition, their new art has visual narratives with history, humor and cosmic levels of spirituality.
Diné culture infuses Sheldon Harvey's art
Inspired by the Diné stories he grew up with and the experimental works of European abstract expressionist painters, artist Sheldon Harvey, Diné (Red Running Into Water Clan), has created a unique fusion of styles.
A new series of large-scale paintings and sculptural works take cues from the New Mexico and Arizona land, from Diné stories and traditions, and from the artist's translation of his identity.
Working out of a cluttered studio, his art has found its way into major collections throughout the United States, Europe, and Asia. He has received numerous awards and honors, including first place for sculpture and painting at the Santa Fe Indian Market and Best in Show for his oil painting.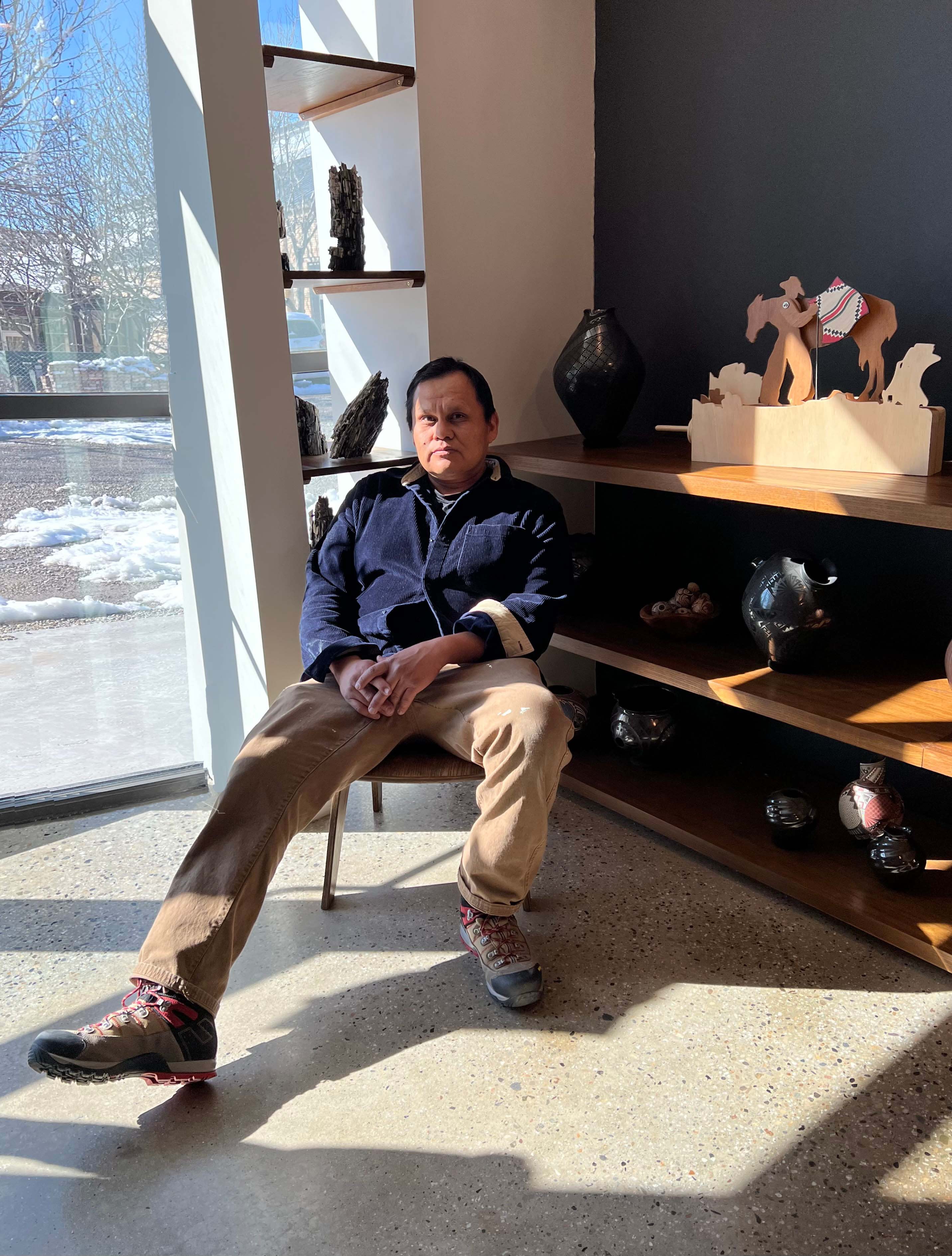 An exhibit of his work opened March 18 and runs to May 6 at Modern West Gallery in Salt Lake City, Utah, showing with artist Shalee Cooper in the duo exhibition, "Convergence."
Together, their works "converge" to meditate on art as a medium of balance, relation, identity, and transformation. Harvey presents paintings that contain symbols and totems that suggest spirits and kachinas. Panel works become a cross between painting and sculpture.
"The new series is coming from my homeland, a place that I live currently, in Fort Defiance, Arizona," Harvey told Indian Country Today by phone. "A lot of ideas coming in from my past experience of growing up in these areas, specifically memories of ceremony, sacred sites, sacred places, and the Navajo traditional culture as well."
Harvey grew up on tribal lands a couple of hours from any town, but the isolation was fine with him. It was country lifestyle filled with ceremonies and stories he heard.
"A lot of that has always been a part of my work since I started creating sculptures," he said. "And with this series, I took a little step further as far as wanting to learn more about the human spirit. There's this sense of self-discovery and just work that I went through in the past."
His latest series contains strong currents of classic abstraction from the 1930s through the 1960s that European and Latin American artists used in their work. Harvey says artists like Armenian Arshile Gorky were a strong influence, but that he brings an Indigenous element to it.
"There's the painterly technique I've been looking at —a lot of works from those guys that really struck me as interesting to have the bravery to create the imagery they did," he said. "That struck me, because being creative in that way takes a lot of courage and is a strong, fearful place to put yourself."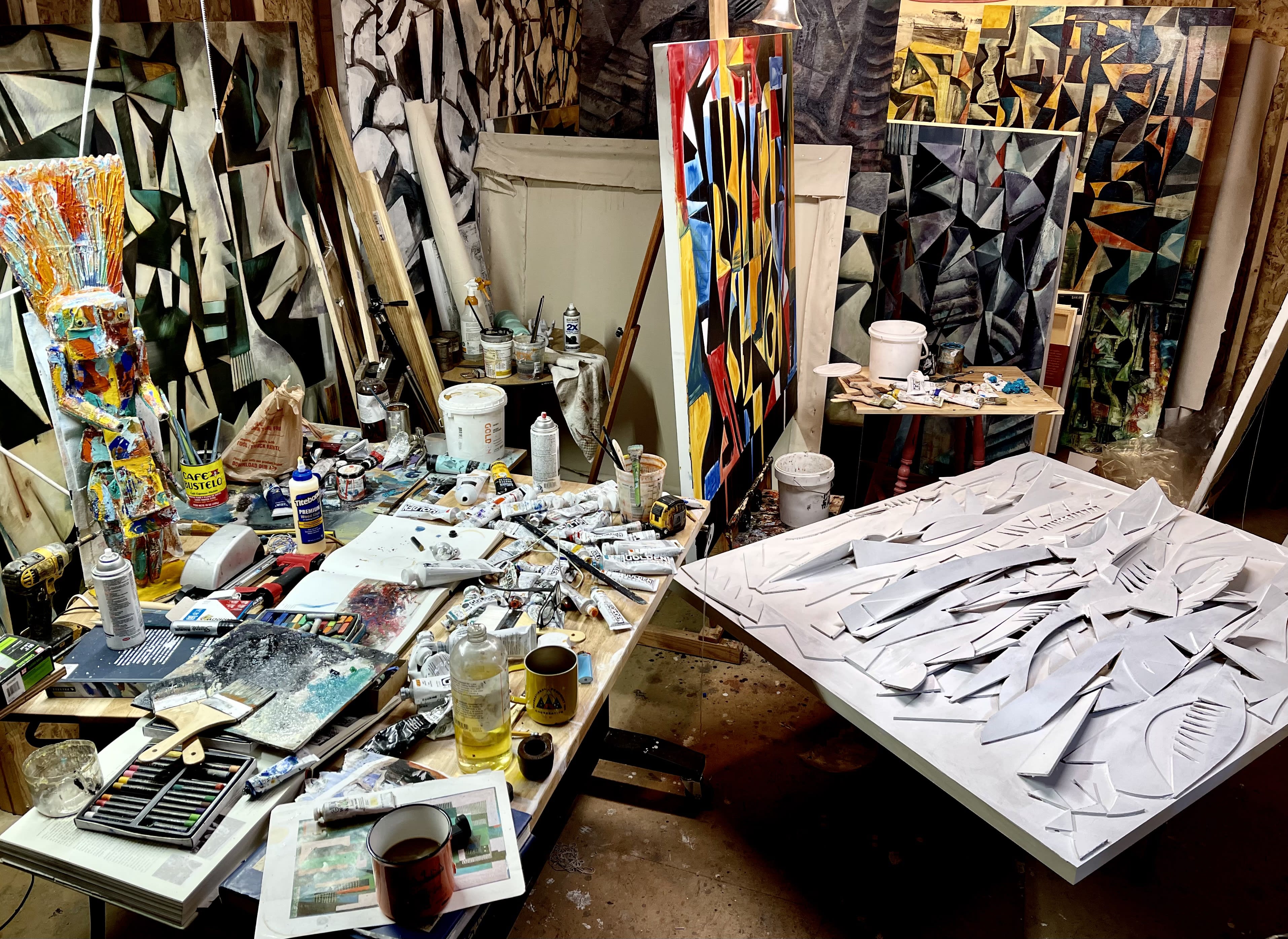 Harvey believes his style alludes to "the Navajo and our words, very scripted and a bit abstract at the same time."
For the sculptural panels, he used cardboard and wood to pull out the shapes from the paintings.
"I started seeing the tensions in the two-dimensional paintings come together. The more I could see that I could actually create them in three-dimensions. Pull the shape out of the different angles, see it from the side, bottom, the top," he says.
The show features about 14 pieces of his art, four sculptures of free-standing painted figures and several paintings and 3-D panels.
Joining him in the show is Salt Lake City artist Shalee Cooper, non-Native, who is also the director of Modern West. Her work is cleanly geometric abstraction, with minimal colors of black, white, brown and gray.
"I wanted to show with her and see what the complex relationship to the imagery my art can bring to hers or can teach something that we're excited about that we saw, get a dialogue going with the works," Harvey said. "We want to try to dig a little deeper into the human consciousness spirit, aside from the race subject, in our Native, non-Native worlds. See what the spirit is between the both of us and with the show like this as well, we being male and female, there's a masculine side of the work and there's a feminine side of the work as well..
"That's where the title, "Convergence," comes from."
He continued, "I'm just trying to understand myself as an artist and as a creator thus far. So when I started creating these paintings, it got Shalee's attention and she asked to show together. I had seen some of her work … and I realized that they're very similar in design and in capturing this innate spirit of design and symmetry and balance."
Nani Chacon draws on mythology
Diné artist Nani Chacon, born in Gallup, New Mexico, is having her first solo show, "Spectrum," at the nonprofit art space, SITE Santa Fe.