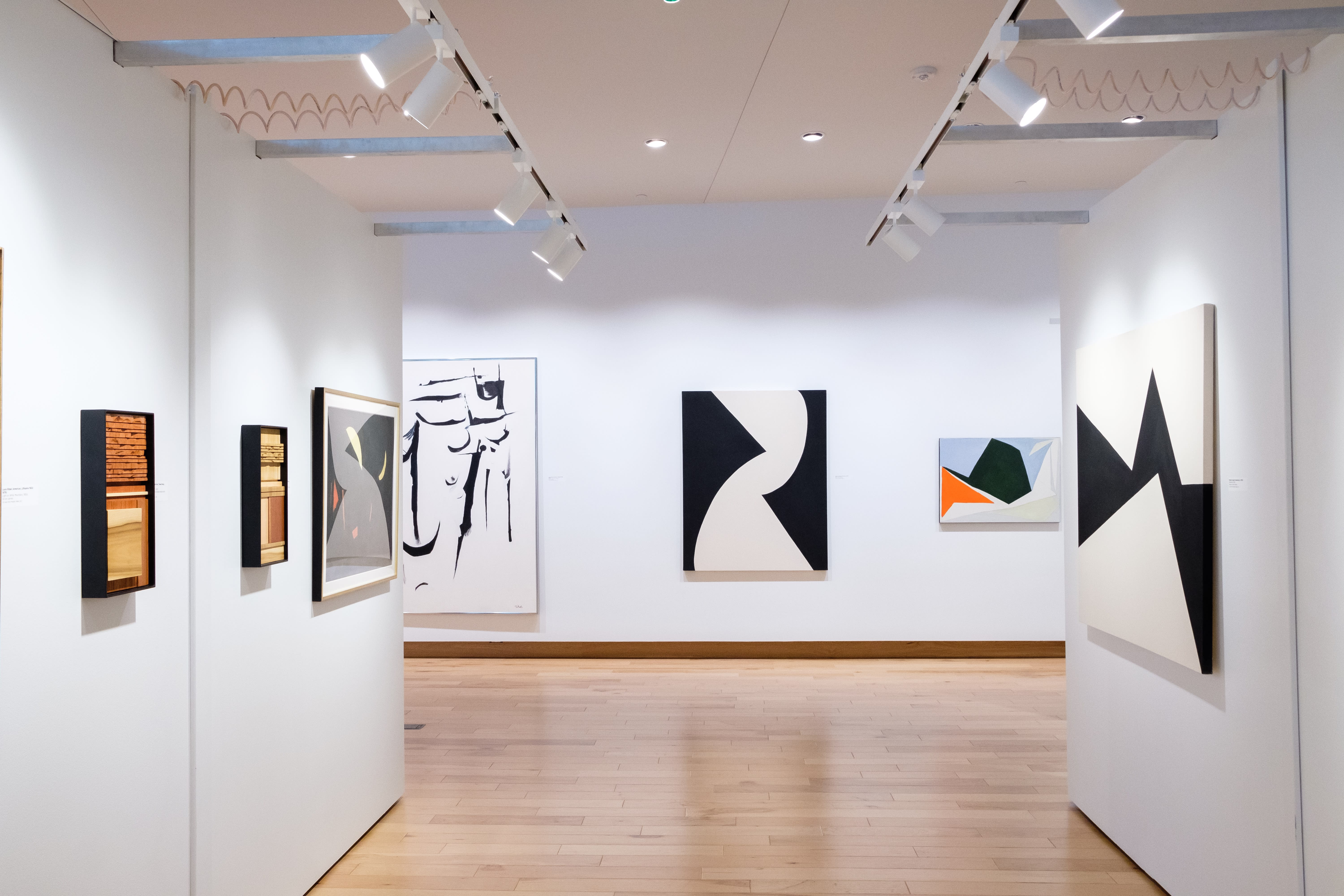 NAMINGHA, COOPER, & THE LEGACY OF MODERNISM
Although Shalee Cooper and Arlo Namingha come from very different backgrounds of artistic practice and training, both are inheritors of the modernist tradition of geometric abstraction and inhabitants of the Southwest, inspired by their local environs. Their artistic methodology, in disparate media, reduces complex imagery to minimalist compositions that center on the interactions between shape and color, and negative and positive space. Both of these artists utilize the universalizing visual language of minimalism and the mutability of their compositions (both sculptural and painted) to evoke notions of collaboration, dialogue, and interactivity. Like the modernists before them, the meanings behind Cooper's and Namingha's pieces are not plainly expressed, but manifest through the play of distilled forms, each one rich with connotation.
The shapes Namingha constructs and the titles he bestows upon his sculptures together conjure meaning for viewers, compelling close looking and contemplation. He is bound to and inspired by the land, beliefs, and symbols of his Tewa-Hopi community in New Mexico, but his artistic expression is rooted in modernist minimalism-like Mandelman and Ribak, his work is both regional and global, personal and universal. While the pieces presented here reference in name and form his cultural heritage-Niman, for instance, is an annual Hopi kachina ceremony-several sculptures engage abstract geometry and modularity to respond to our contemporary moment. These sculptures can be assembled and rearranged differently by the artist and the viewer, thus demonstrating the possibility of exchange and the coexistence of divergent perspectives in art and beyond.
Cooper similarly plays with interactivity between artist and audience Several of her paintings displayed here carry an instruction to potential collectors and curators to reconfigure the works as they see fit-the multicomponent pieces can be presented in different arrangements and the single-canvas works can hang in different orientations. Cooper invites viewers to contemplate new ways of seeing, just as shifting light and shadow can be captured and manipulated through photography and other artistic media. Influenced by a background in photography, Cooper's works explore balance and relation between positive and negative space, utilizing geometric abstraction, light, and dark.
MANDELMAN, RIBAK, & TAOS MODERNISM
Even before they were married, Beatrice Mandelman and Louis Ribak were united by a shared belief in the fundamental social function of art. Both interacted with luminaries of the New York modern art scene of the first half of the 20th century, much of which was infused with revolutionary political ideologies, particularly those centered on the rights of the working class. Mandelman and Ribak were especially immersed in the style known as Social Realism, which depicted workers and scenes of everyday life rather than the social elite.
In 1944, however, they left their circle of artist and activist friends in New York for the backwater town of Taos, New Mexico, where the cultural scene was dominated by cowboy art, landscape painting, as well as
local Hispanic and Indigenous folk traditions. After only a few years, Mandelman and Ribak galvanized the Taos arts community, helping to create a vibrant collective of transplanted and local artists supported by commercial and educational infrastructure, and an underlying philosophy of exchange. The couple were in the vanguard of what became known as Taos Modernism, their paintings among the works that define this style that reflects both regional and international movements of the time.
The move to Taos radically changed their art. Not only were they at a new nexus of artistic collaboration and cross-pollination, but the landscape and local cultures of New Mexico pushed Mandelman and Ribak into unexplored stylistic realms grounded in abstraction: "The land [of the Southwest] makes it possible to be an abstractionist," Mandelman explained. Although they lived in this remote location, Mandelman and Ribak were not isolated; through travel, study, and friendship, they remained connected to the artistic, intellectual, and political movements of their time. Inspired by these outside muses and moved by the vast expanses, monumental topography, and intense light of Taos, Mandelman and Ribak each developed a unique visual language, intended for a kind of universal accessibility. In different but parallel ways, they distilled forms to their essence, allowing color, shape, and space to express their own feelings about the increasingly complex world they inhabited, while seizing viewers' imaginations and evoking myriad personalized responses.