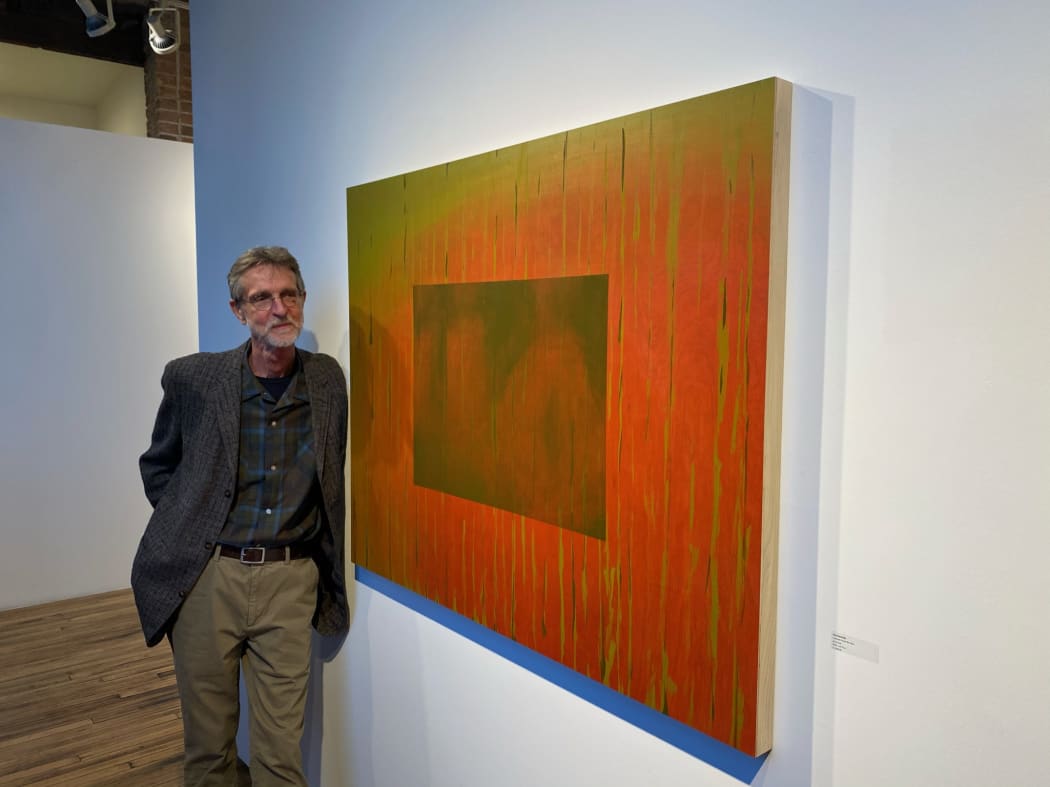 What inspired the featured body of work? Did you find yourself working in a new way because of the pandemic?
There are two bodies of work represented in this show, line paintings and transparent paintings, and they are very tied. Both start with a series of oil glazes over raw birch-wood, painted with rags to make the transitions subtle, and exposing some of the gorgeous grain of the wood. The inspiration for both was a desire to move from a more explicit representation of my record of living, with lots of words, symbols, marks and shapes buried in the paintings, to a simplified, clean, minimal painting with a simple statement of intent at the end.
I was working on the transparent series as the pandemic started, and found it well suited to moving into emotional territory. In my statement about this body I said: Howard Hodgkin describes his work as "representational pictures of emotional situations". This pegs my desire for this work. I want these paintings to remain open to holding my dialogue and a viewer's dialogue as well.

Can you talk about the departure from a subtle to a more emphasized style in your works?
The transparent paintings grew from the line paintings, and are probably a more emphasized style. While the ground and the primitive lines are developed over the course of several weeks, with chances for me to modify and build, the final rectangle in the center containing an image happens in one shot, in about a half hour to an hour. It starts as a record of whatever is on my mind in that moment, and then develops in process, often shifting dramatically to something I didn't expect at all. They are like reverse Rorschachs. It occurred to me in conversations at the opening of the show that they resemble photographs: hard edged rectangles containing an image. My years of photography practice are seeping into these spontaneous compositions.
Your work often involves a performative element, whether it is blindfolded or intentionally visual. Your act of mark making integrates the use of your body significantly can you talk about this process?
Both bodies of work depend on a last minute stab at expression. The line paintings are very body oriented: they are a visual record of a movement, all done without looking at the painting. They range from recording a run down the sidewalk in front of my home studio, hitting the painting with a large graphite pencil as I passed, to standing on my head beside the painting (my wife Gretchen spotting me so that I didn't fall into the wet oil-paint), and recording with one hand my movement as I stood on my head and other hand.
It seems like you have finalized this body of work and that the most recent pieces have sparked a new idea. What direction do you see you taking your work in the future?
The last couple of transparent paintings came away with much cleaner images in the center, moving from the blurred images that I have described as "trying to be something, but not quite getting there yet". These cleaner images are still mysterious, they really aren't anything yet, either, but I'd like to keep exploring them for my next move.