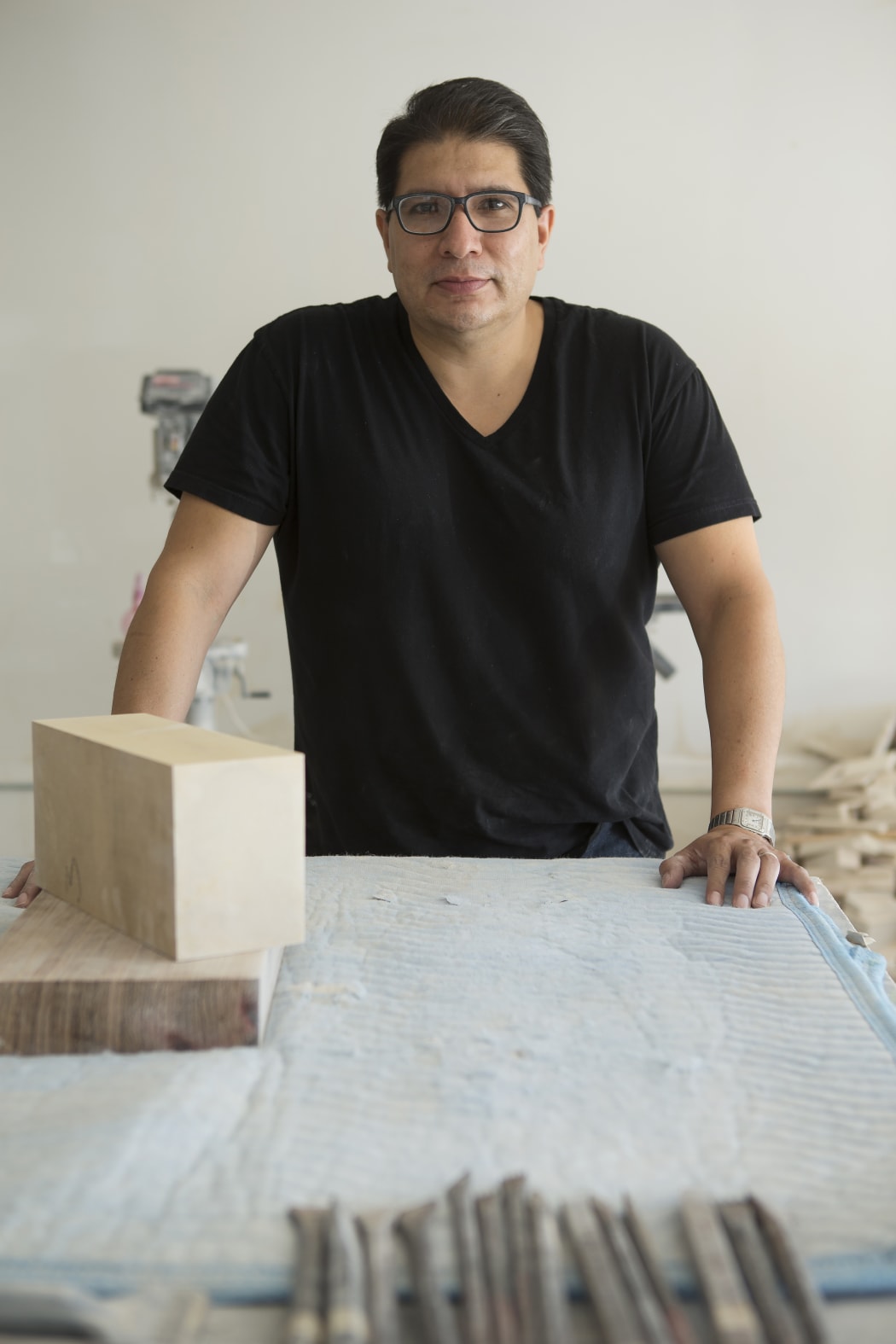 Photo Credit: Kate Russell

You come from a long line of artists in your family, from your father, Dan Namingha,
one of the most

celebrated

Hopi-Tewa artists in the world, to your aunt, Camille (Hisi) Nampeyo, an internationally-recognized potter, and you are also the grandson of Dextra Quotskuyva Nampeyo, who received the first Arizona State Museum Lifetime Achievement Award; she also had a 30-year retrospective of her pottery at the Wheelwright Museum in 2001. What are the greatest lessons you have learned from the artists in your family, and how have they impacted your practice and work?
I was fortunate to learn from my grandmother Dextra Quotskuyva (Nampeyo) the process of creating pottery and her techniques of building forms, traditional firing, polishing, and painting with natural pigments on the clay. I created a few pieces with her in her studio out at Hopi. Having full access to my father Dan's studio from childhood, my brother Michael and I had the opportunity to experiment with many different mediums, from sketching, painting, oil pastels, sculpting, learning composition as well as playing musical instruments. I was never pushed in any specific direction but my family fully supported our interests. Best advice from my dad: have no fear, experiment, and always execute and complete your work as if you would imagine it in a museum one day.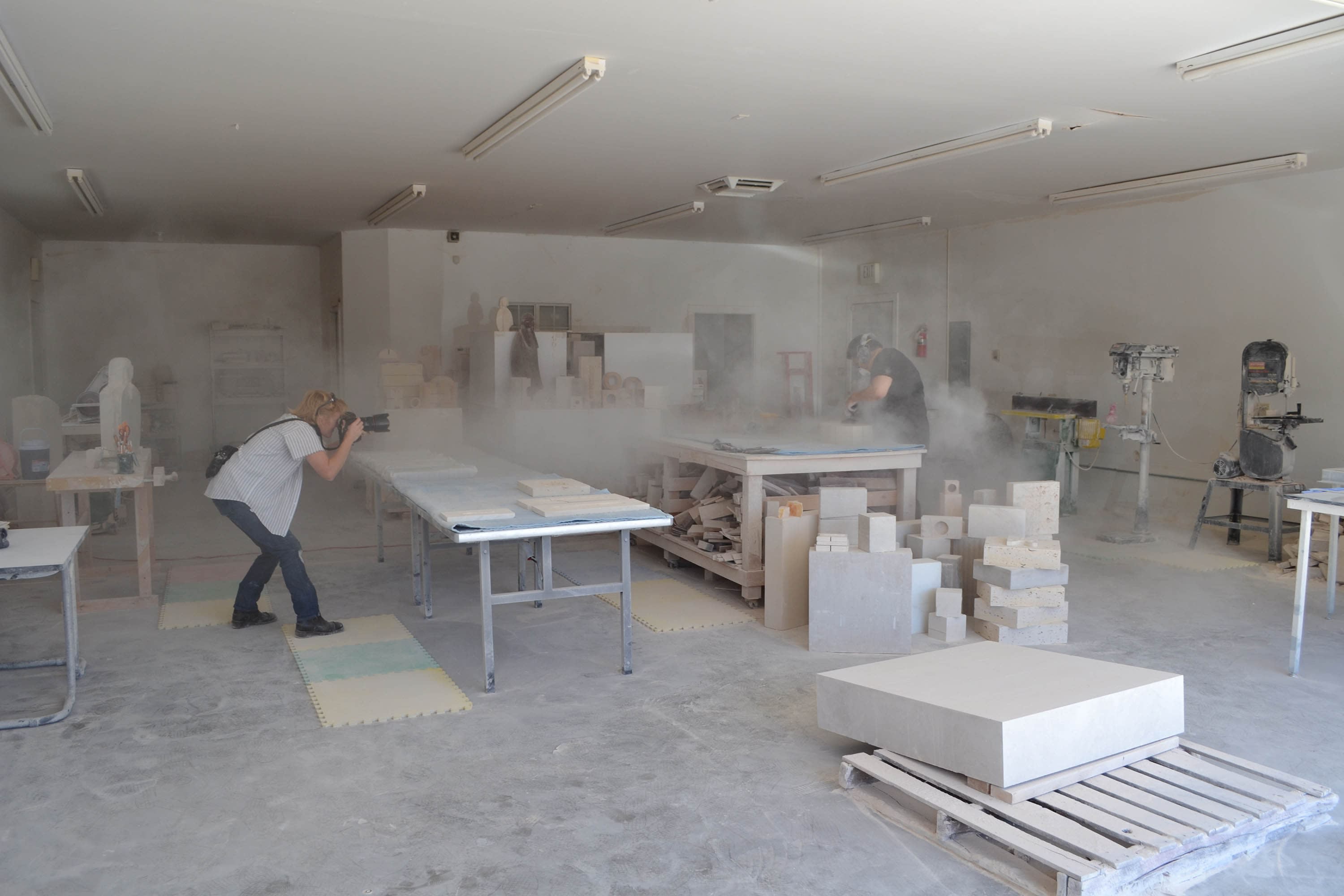 Photo Credit: Nicole Namingha

You work in mediums of bronze, wood, clay, and stone. Can you elaborate on how you choose those mediums; is each symbolic to a different form, landscape, or meaning?
I started out as a wood carver, carving Katsina dolls for our ceremonial purposes at a young age. I eventually moved on to clay for casted bronze. With a love of natural materials, I eventually progressed to stone as well. When working with bronze, I currently prefer to fabricate as opposed to casting. I have found that with my work and the hard edges, the fabrication process lends well to what I want to achieve.



Can you speak to the narrative or concepts of your works '
Eclipse, 2017'
and the '
Mother Earth' series
, or any other works with a story?


'Eclipse' is two halves of a Katsina Face. The negative space being the eye of each. They mimic each other relating to two deities we have out at Hopi, they are spider woman's two grandsons. One watches over the land, the other watches over the water. My intention was also to represent the sun and moon, this piece is interactive, so that I or the viewer can create different compositions. Sliding the two halves together refers to the idea of an eclipse like the Sun and Moon passing through each other.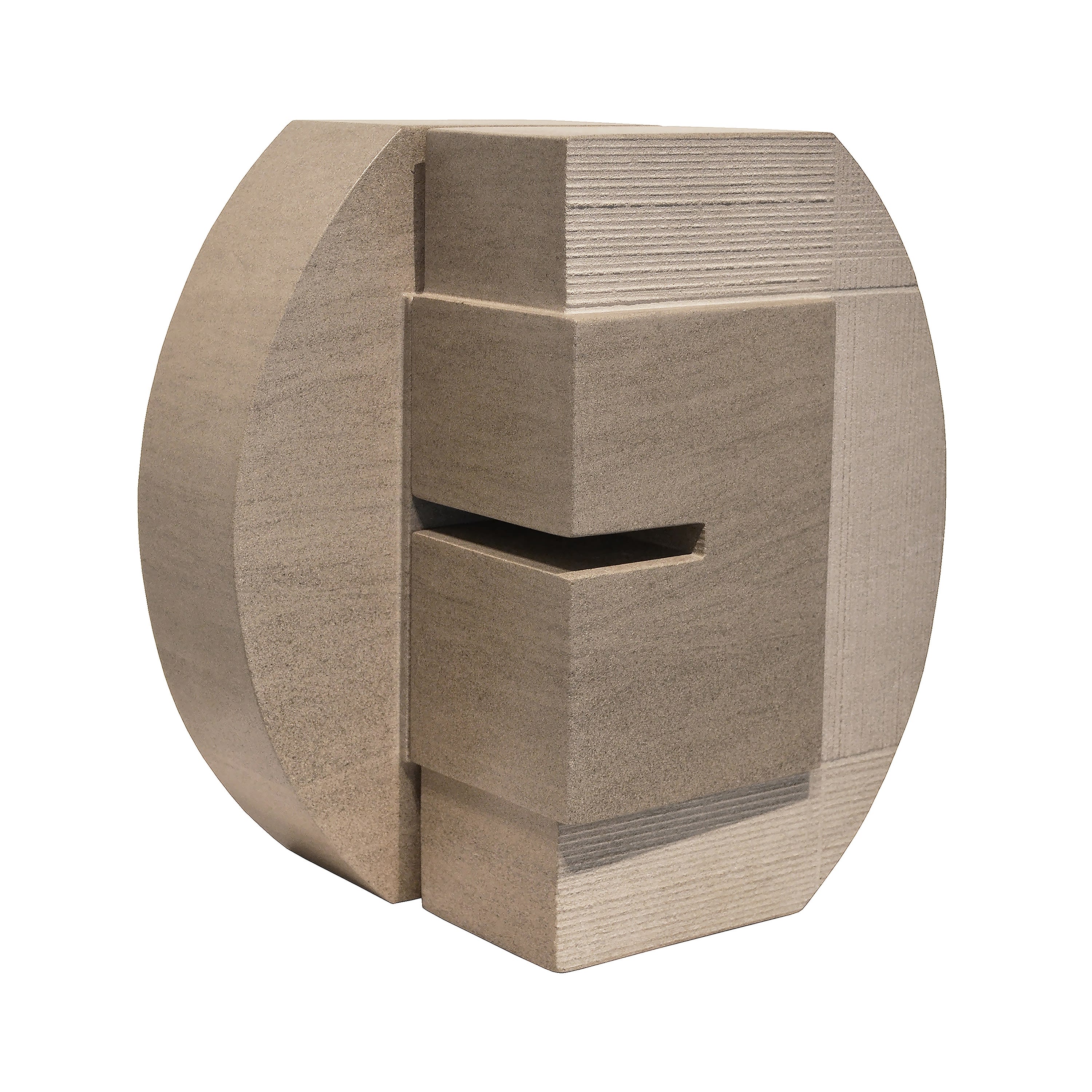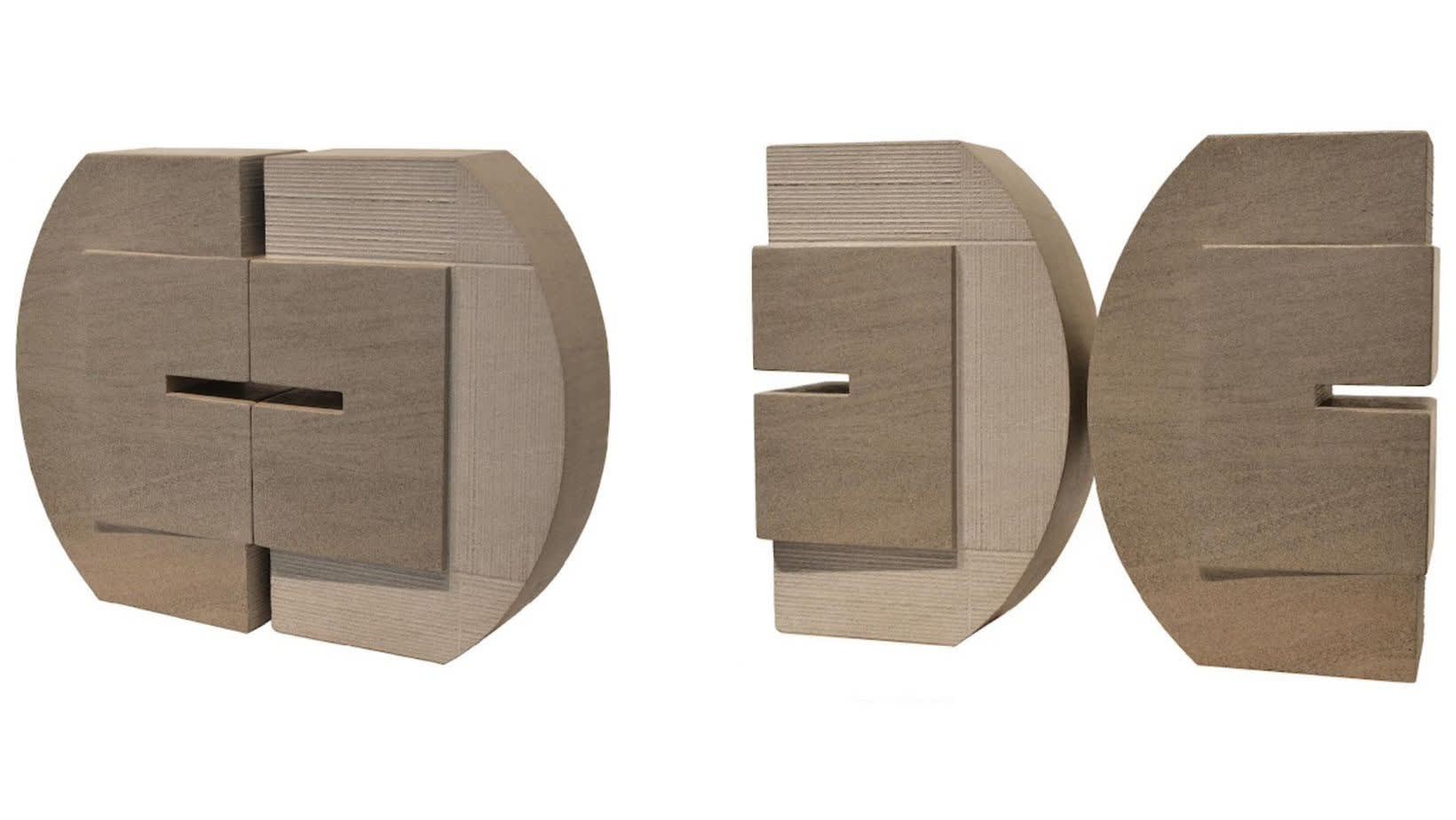 The 'Mother Earth Series' refers to the landscape, incorporating various types of wood from various regions to create a composition as well as harmony, I rarely and almost never stain a type of wood, but prefer to bring out it's natural grain and beauty. These pieces are looking at a landscape but almost in a geological perspective, telling a story of the history of mother earth and the respect this land should have.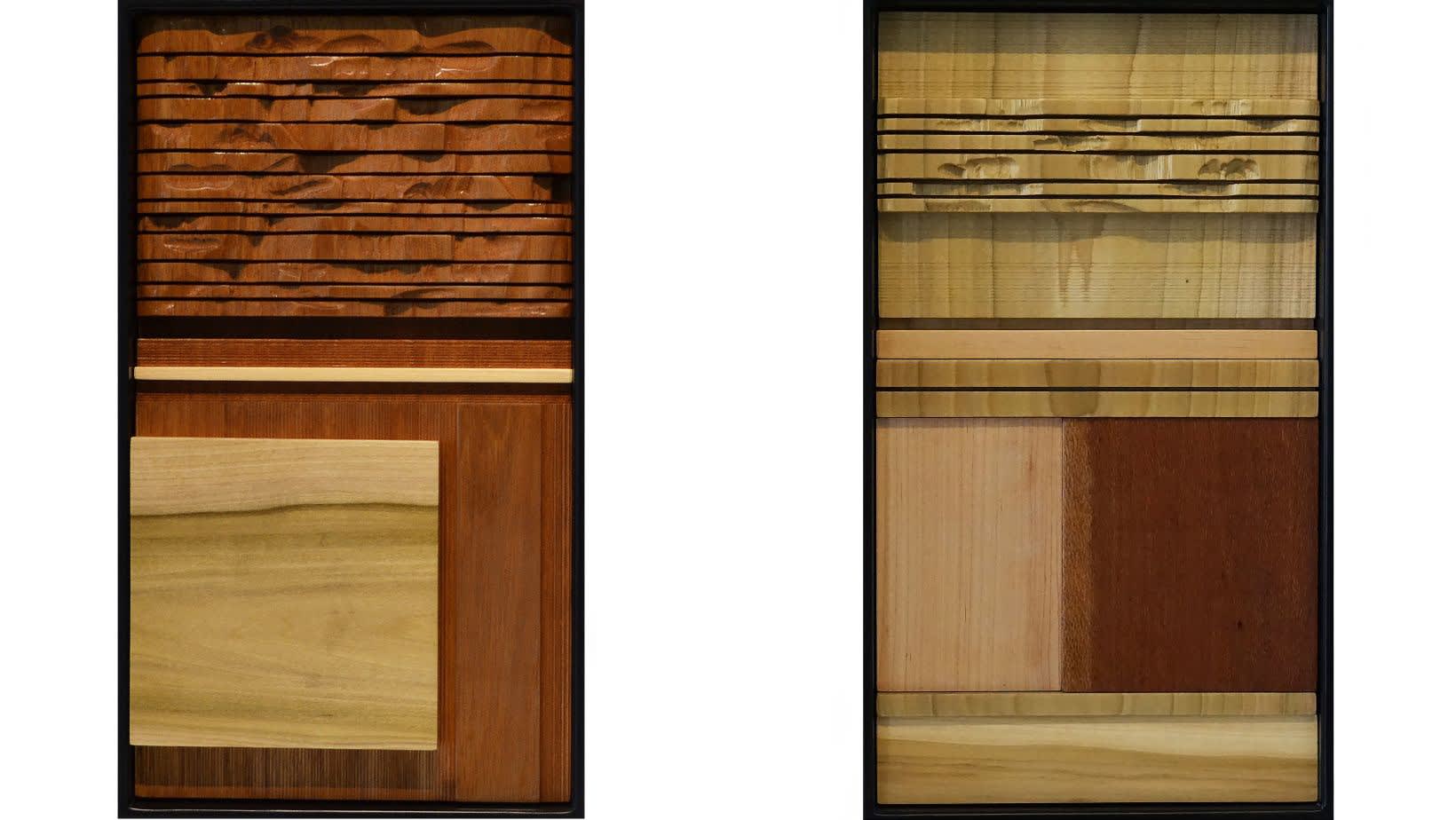 'Four Directions' is another piece in the exhibition which is interactive and has the controlled break technique I use to lock the pieces to together. This piece relates to the four cardinal directions, north, east, south, and west. It also refers to how we are all connected as humanity, we all have our own beliefs, ideas, decisions we make, therefore each of the four pieces are moving in a slightly different direction, you can also disassemble this piece to create various compositions for continuous possibilities. By doing so creates a dialogue between myself and the viewer.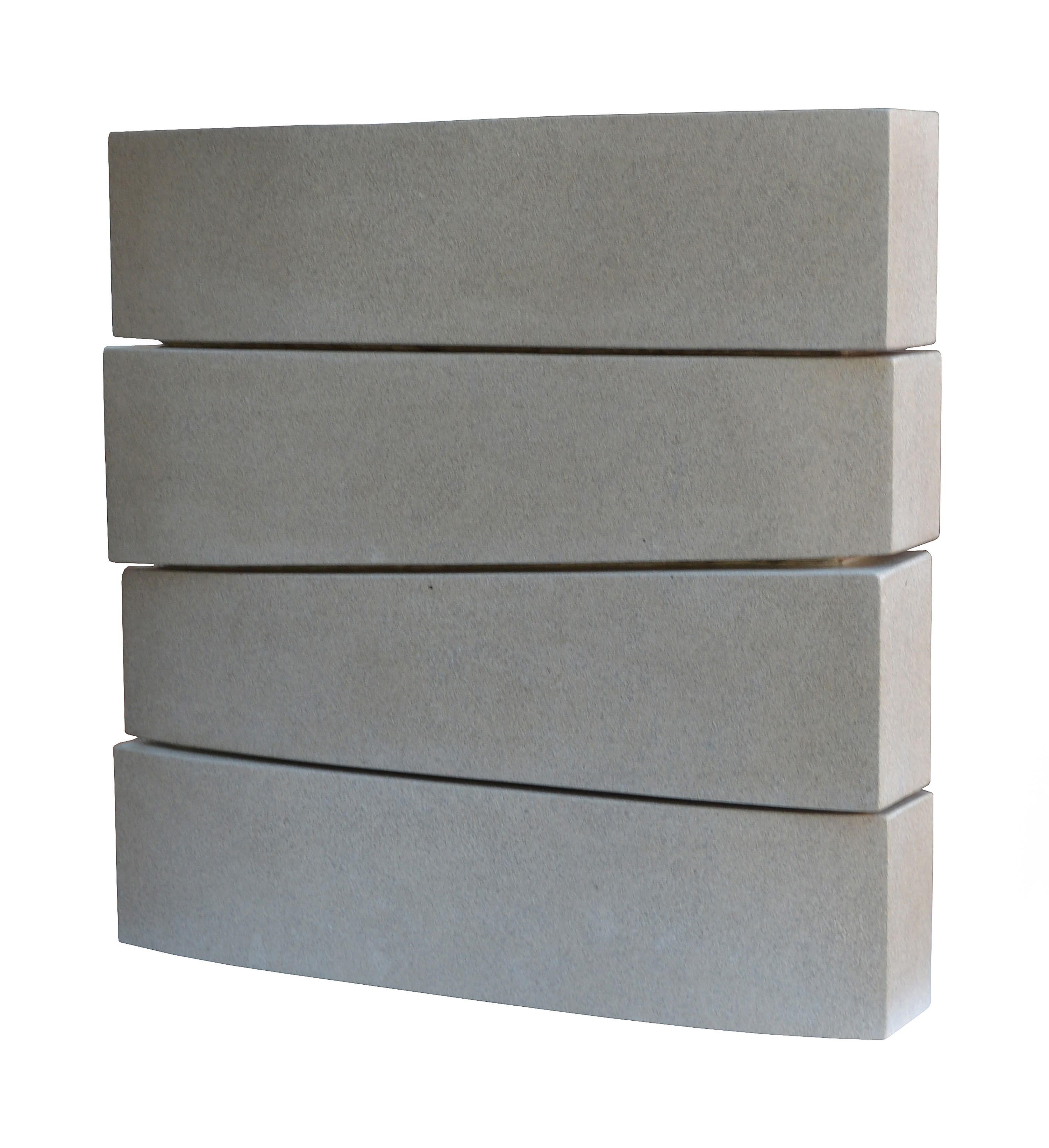 YOUR WORK HAS REDUCTIONIST ELEMENTS, INTERPRETATIONS OF PUEBLO BUILDINGS, LANDSCAPES, AND ANIMALS, AS WELL AS ABSTRACTIONS OF HOPI AND TEWA CULTURAL BELIEFS AND SYMBOLS. WHAT HAS BEEN THE INSPIRATION TO REDUCE THESE FORMS AND SYMBOLS INTO MODERNIST AND REDUCTIVIST REPRESENTATIONS?

Being that I started out as a realistic carver, as an artist it almost became repetitive to me. I started breaking down the imagery, utilizing positive and negative space, textures, and movement, while still using my upbringing and culture as the foundation of my work. However, as you grow as an individual and experience life and travel, so does the work. My current work tends to share stories of my culture, how I view the landscape, and also addressing current issues. I prefer to do this in a serene way, provoking thought, idea, and creating a dialogue.


Both your work and Shalee Cooper's work is interactive, inviting collaboration, dialogue, and curation from viewers. Can you speak to the exhibition 'The Space Between' at Southern Utah Museum of Art? What does your work have to say about balance, change, and possibilities?

I am honored to be a part of the exhibition 'The Space Between' at Southern Utah Museum of Art. My work deals a lot with balance and composition artistically, but this also addresses the balance that is needed in life as we hope to all coexist with our individual backgrounds, beliefs, as well as with nature etc. As for change, this is the main reason for a lot of my work being interactive, so that it provokes dialogue and conversation for that is what is needed for any type of change to happen.